Meet the team that makes it all happen at wayne's automotive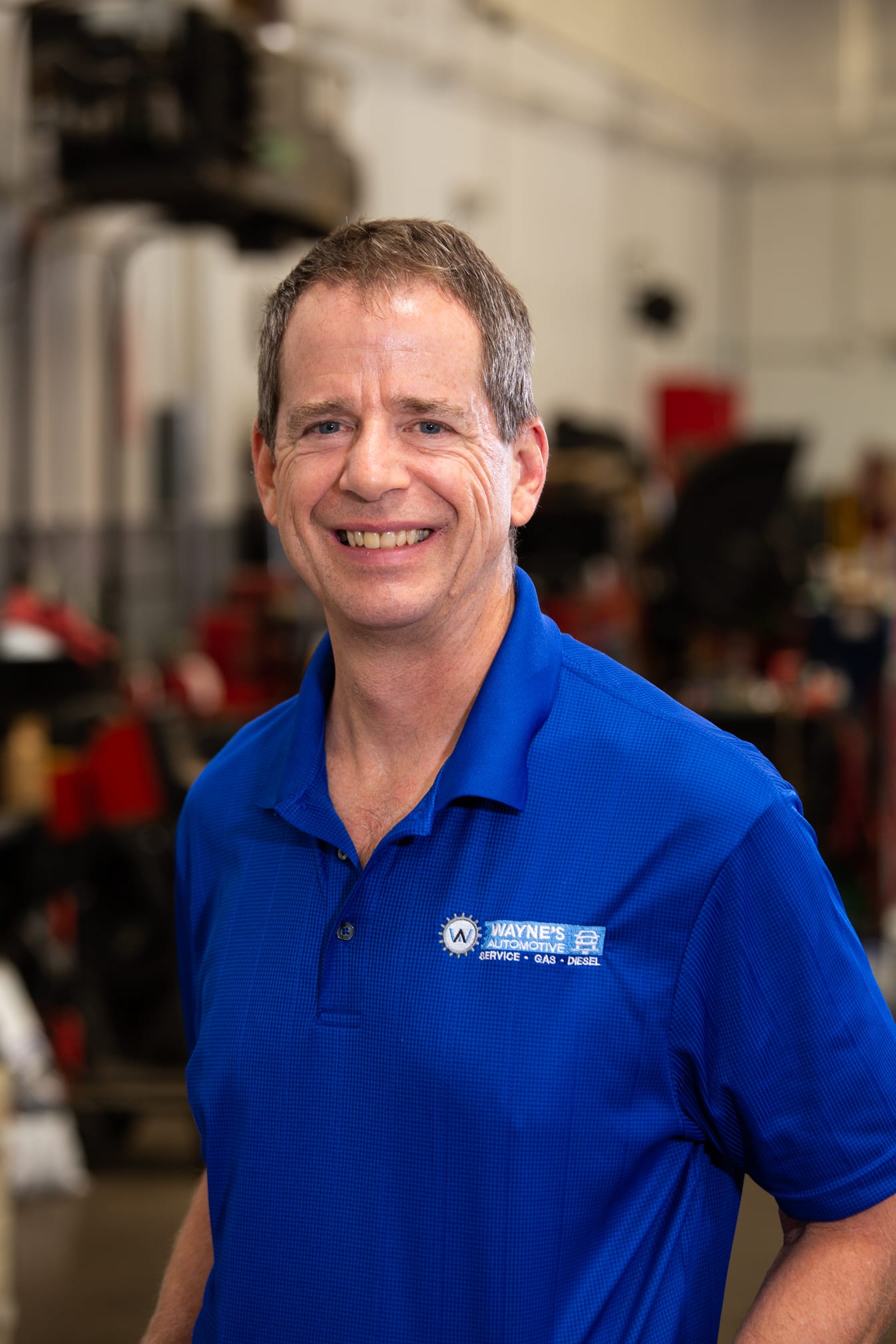 Dan - Owner
How many geologists do you know that own an auto repair shop? Meet Dan Oakley, owner of Wayne's Automotive since 2006, who just happens to be a geologist with a passion for cycling. He even hiked the entire Appalachian Trail back in 1995. He has been married to his wife Alison since 1996 and they have a son, Matt, and daughter Katherine.
Prior to a career in the automotive industry, he spent 20 years as a hydrologist investigating and cleaning up hazardous waste sites. That is one of the reasons why Dan has an environmentally friendly garage. Even helping people keep their vehicles running efficiently and smoothly can make a big difference in the environment. Dan believes in looking to the future and education is a key component of that. Management and staff regularly attend trainings in their specialty.
He chose to purchase the business because he wanted to own a sustainable business with great name recognition. Wayne's Automotive fit that criteria quite nicely. Honesty, integrity and technical excellence are keys to this business's success. The friendly atmosphere is not by accident, it starts at the top. Maybe it's the yoga. In addition to bike riding, hiking, back country skiing, he's become a yoga enthusiast. Namaste.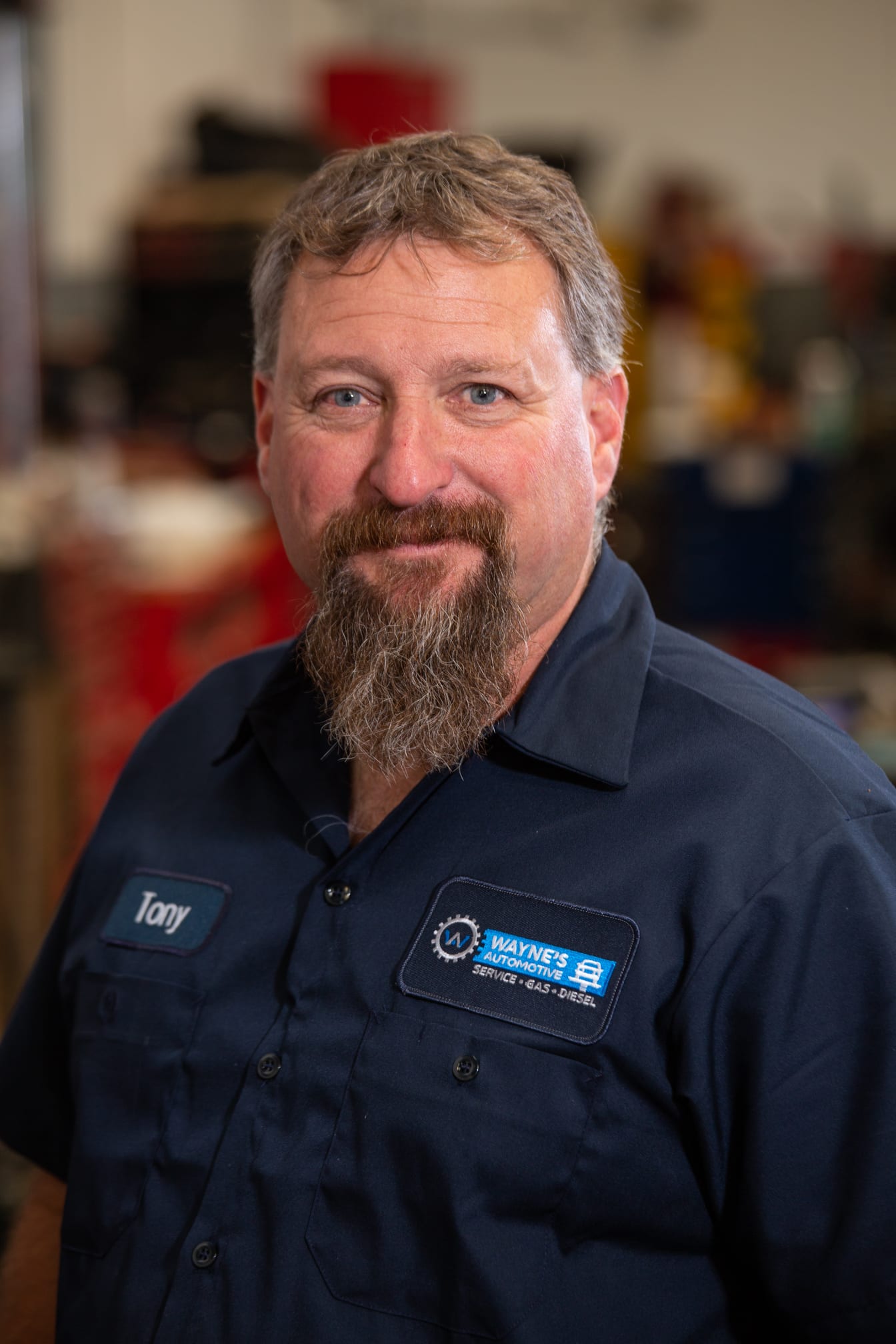 Tony - Shop Foreman
With over 34 years in the automotive industry, Tony is passionate about providing excellent service. For Tony, the best part about working at Wayne's (he's been there seven and a half years), is the atmosphere and how everybody gets along. He was born in St. Mary's Hospital while his wife was born in nearby Renown. They are the parents to two boys. Tony's first car was a 1977 Toyota Corolla that he bought from a guy in high school. Not his favorite car, but it did get him from point A to point B.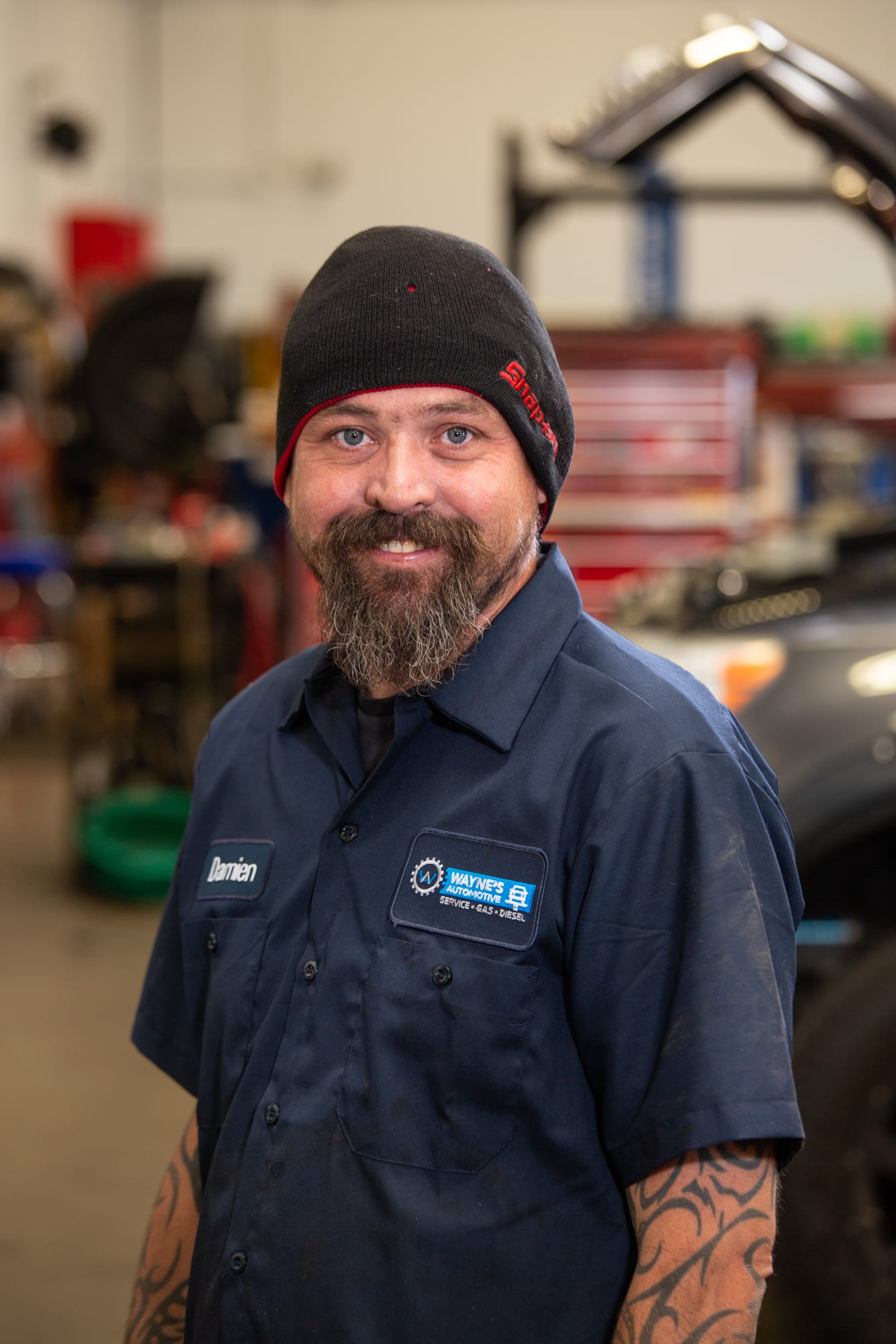 Damien - ASE Certified Master Technician
With over 20 years experience in the automotive industry, Damien has been with Wayne's Automotive since 2012. The team-oriented environment keeps him coming back. On a personal note, he has a daughter and granddaughter and has lived in Nevada all his life. His first vehicle was a 1975 Dodge B250 old van which he bought from a friend for $50. Since it had a blown-out motor he went to the junkyard to find another motor. He bought one for $350. A month later, his $400 initial investment paid off, the van was up and running. He was one of those kids that enjoyed taking things apart and putting them back together again. Damien was born for a career in the automotive industry.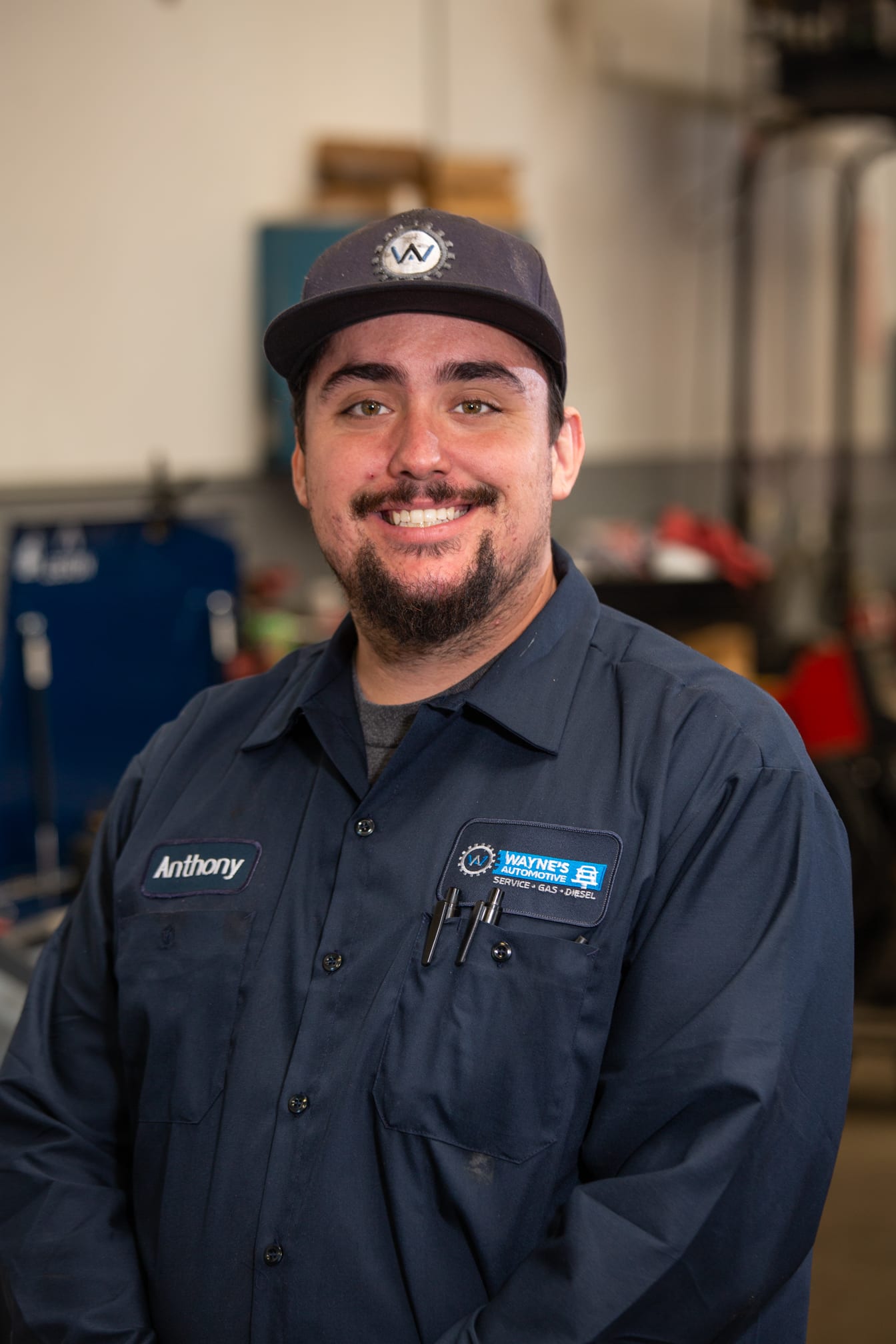 ANTHONY - Lube Technician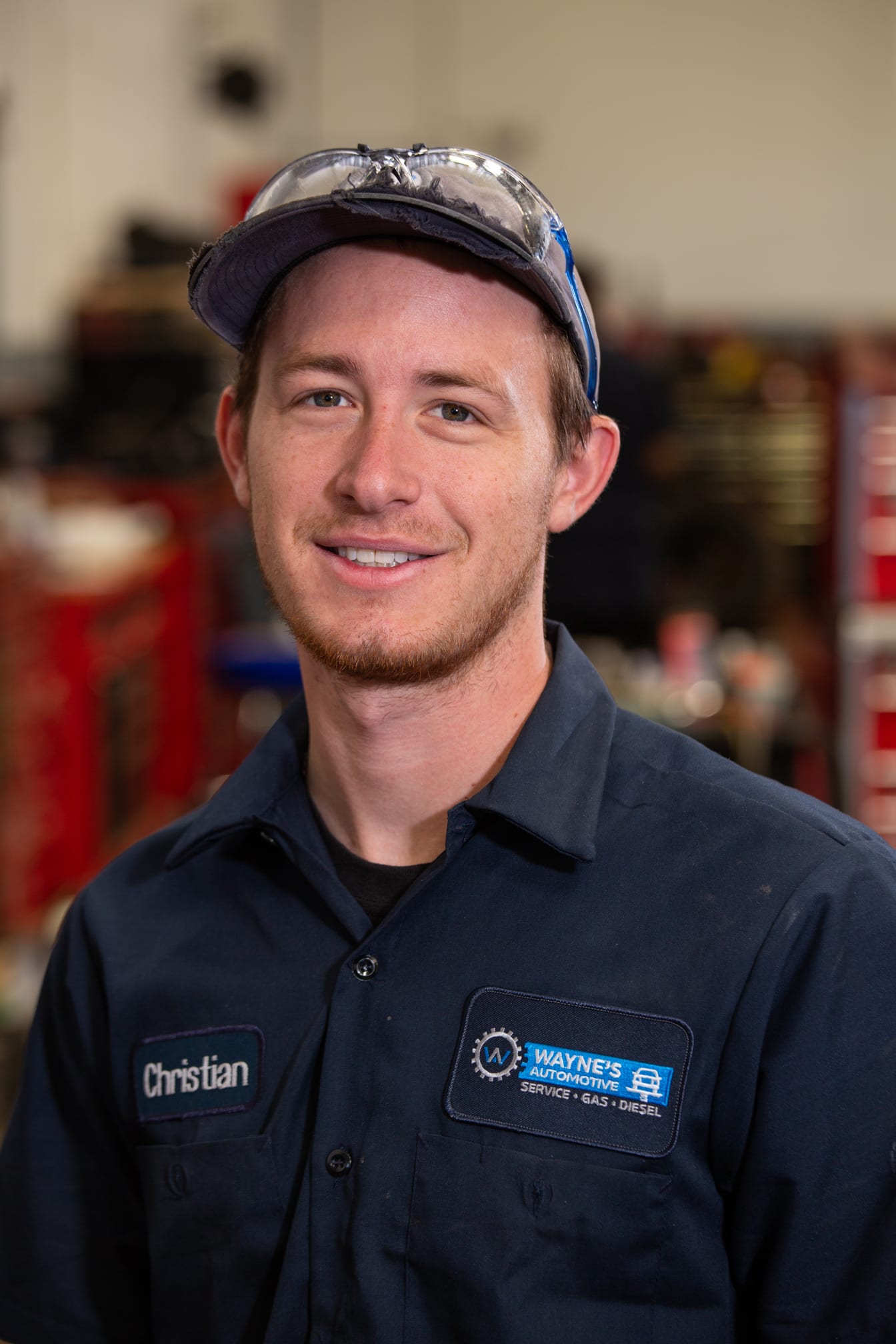 Christian - ASE Certified Auto Technician
Christian has always had a fascination for cars and adventure. Even as a kid, he had a knack for figuring out how things worked and fixing them. He chose to work for Wayne's Automotive because of their AAA Top Shop designation and how they treat their employees. On weekends, he enjoys overland camping which takes you off-grid and off-road. Essentially, an overland camper is a camper on steroids that will take him through all kinds of terrain. He prefers staying away from crowded campgrounds and instead exploring areas less traveled. For the thrill of it, he is a downhill biking enthusiast. Downhill bikes are full suspension bicycles designed to go on particularly steep, technical courses. The sport is adrenaline filled and dangerous. After flipping over the handlebars, he's determined he might need to find another equally fun hobby but with a little bit less danger.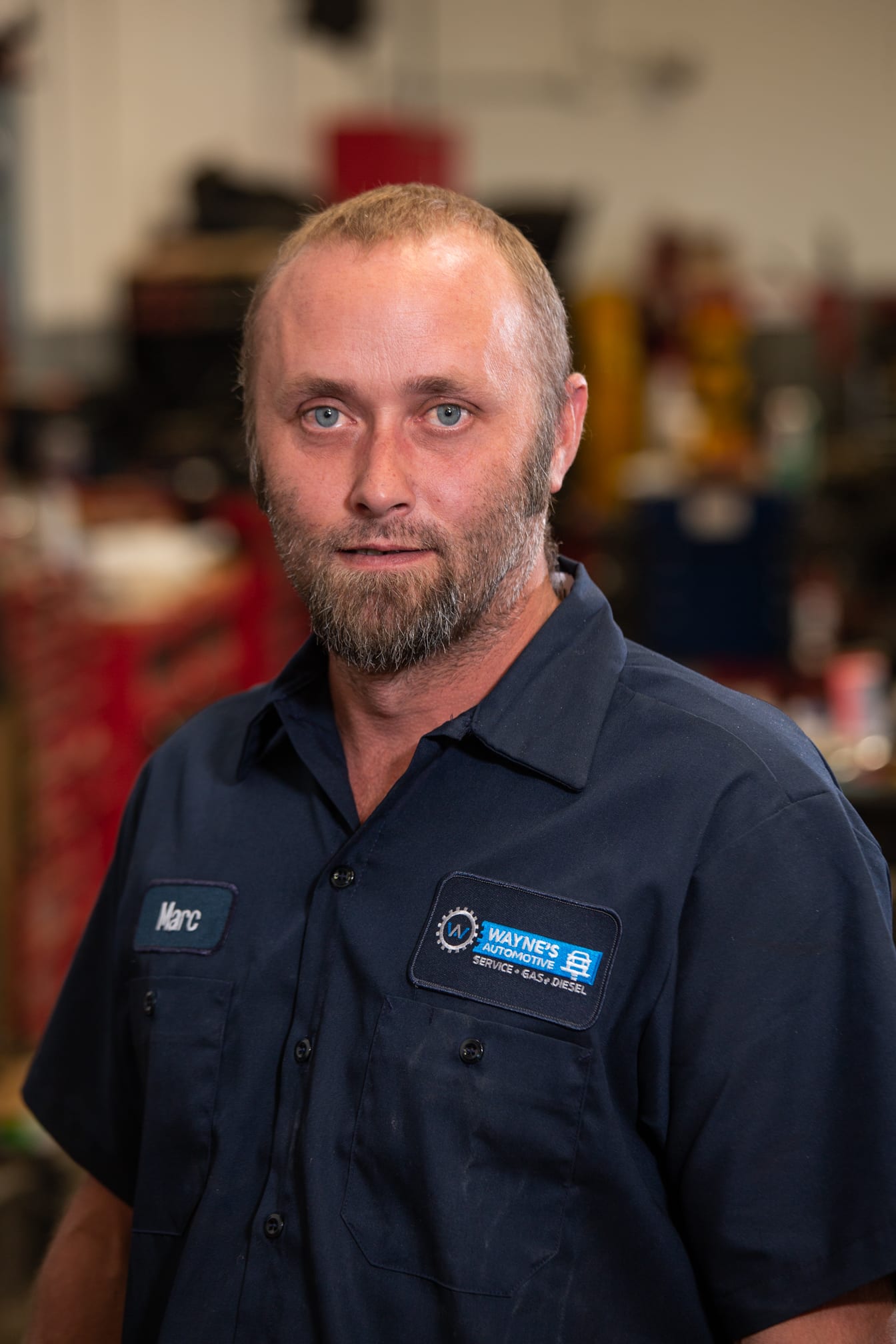 Marc - Automotive Technician
Since 2000, Marc has been involved in the automotive industry. He got his start in an unexpected fashion. After an argument, his mother put sugar in his dad's gas tank. It was a 1980 Chevy Citation and his dad, who was also a mechanic, told him if he fixed it up, he could have it. Because Marc had grown up around cars and his dad was willing to share his knowledge, he took the challenge to heart. While the two-door Citation looked fast with its cal induction hood, it wasn't but he had fun driving it around. That was his introduction to the automotive industry and he hasn't looked back since. He has been at Wayne's since 2015 and likes the environment of taking care of customers and being part of a team that is in turn taken care of by management.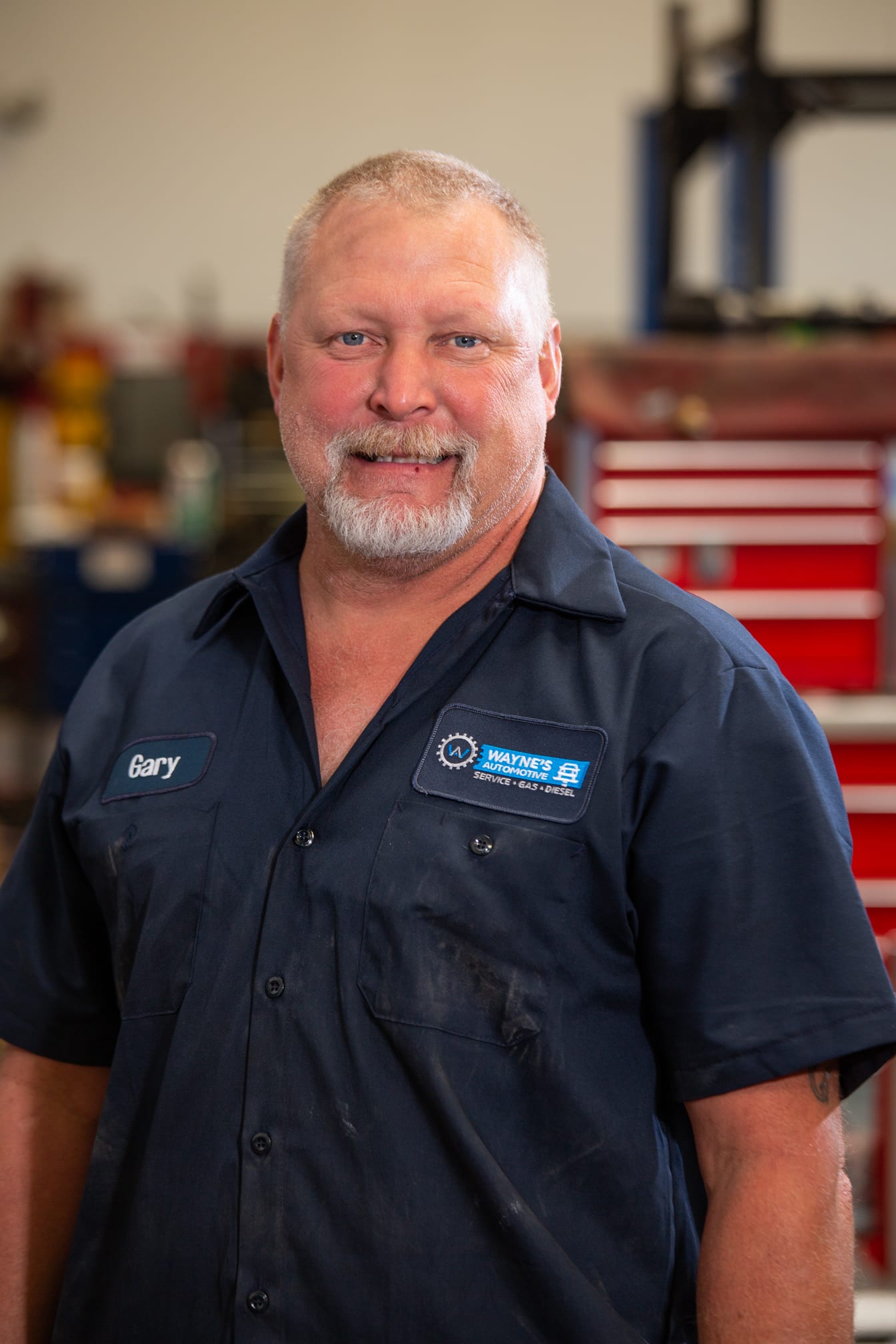 Gary - Automotive Technician
Gary enjoys working in a relaxed atmosphere where he has a great camaraderie with his co-workers. He has 25 years of experience in the automobile industry and is married with three grown kids. His first car was a 1971 Toyota Corolla that was given to him at age 16 by his grandparents. The engine was blown out so he cut his teeth in the industry by helping his grandfather put the engine into his vehicle. Tearing things apart and putting it back together again to make it work has been something he's always been interested in. Since age 10 he knew this would be his career path.
Stacy - Customer care coordinator
Stacy is a big part of that welcoming atmosphere that greets you when you walk in the door of Wayne's Automotive. She has been part of the team for six years and has lived in Nevada 21 years. She and her husband have three boys. For Stacy, the best part about being at Wayne's is every day is different and there is never a dull moment. And by the way, she says the guys are great to work with. Her first car was an older white Volkswagen Scirocco with a stick shift that she received from her parents.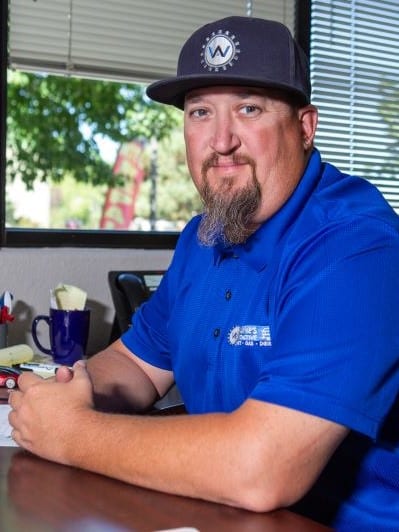 Rick - Lead Service Advisor
Rick has been with Wayne's Automotive for 18 years and it shows. His knowledge and expertise has earned him a position as service advisor where customer service is a top priority. On a personal note, Rick has been married 16 years and has two children, Brianna, 11 and Ricky Jr. 8. He is a coach for his son's baseball and football team while his wife is his daughter's cheerleading coach. His dad bought him his first car when he was 16, a 1989 Honda Civic. He cherished that car and wish he still had it today.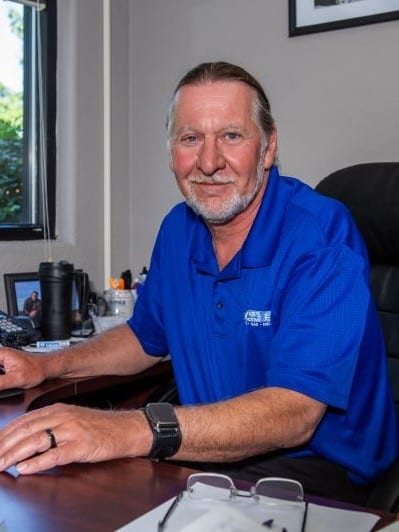 Andro - Service Manager - ASE Master Technician
With over 40 years of experience in the automotive industry, Andro has held many positions including auto tech and shop foreman. When he wasn't physically able to that type of job anymore, he moved into the office and changed career paths. Being at Wayne's has provided him with many opportunities. His first car was a 1955 Volkswagen Bug which he bought when he was 11 years old with money he made picking fruit. He completely rebuilt it and sold it. Like a true entrepreneur, he was flipping cars before he even had a driver's license.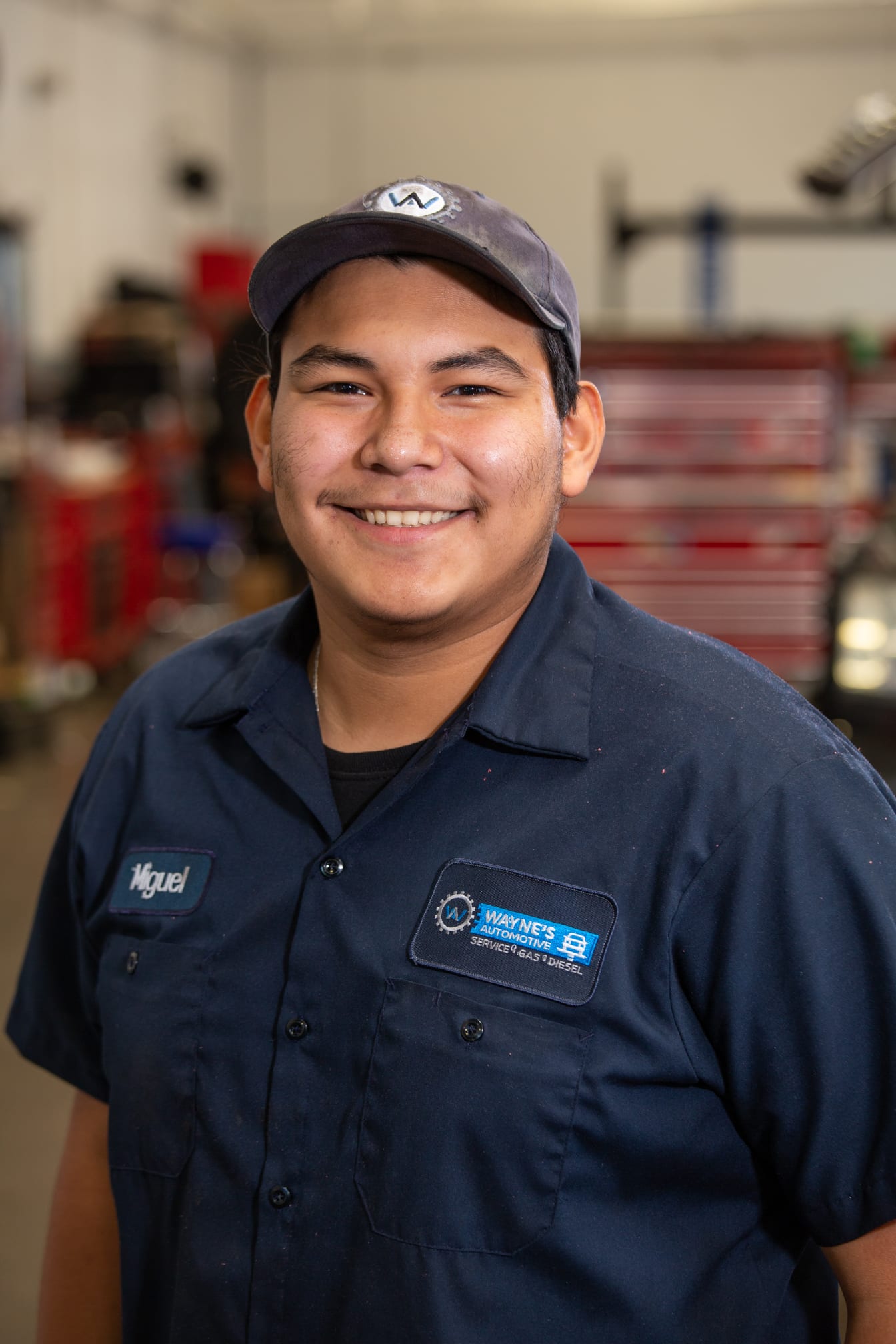 MIGUEL – LUBE TECHNICIAN
Miguel's nickname is "Oso", which is bear in Spanish. Miguel's love of music began early. By 8th grade, he was playing in a Mexican band. He learned how to play the saxophone and clarinet when he was in 6th grade. As a musician, Miguel enjoys playing in front of crowds and playing music in a band. Getting paid for doing something he enjoys so much is an added benefit.
Miguel's love of cars happened early on as well. One of his best friend's father is a role model of his as he was an automotive recycler. As a little kid, he liked the idea of cars going fast and imagined what it would be like to be a mechanic. Not only does he enjoy the physical labor, he likes building that necessary trust with customers. He's no stranger to hard work and dedication to his craft. He's a perpetual learner and strives to be an Auto Technician and own his own business one day.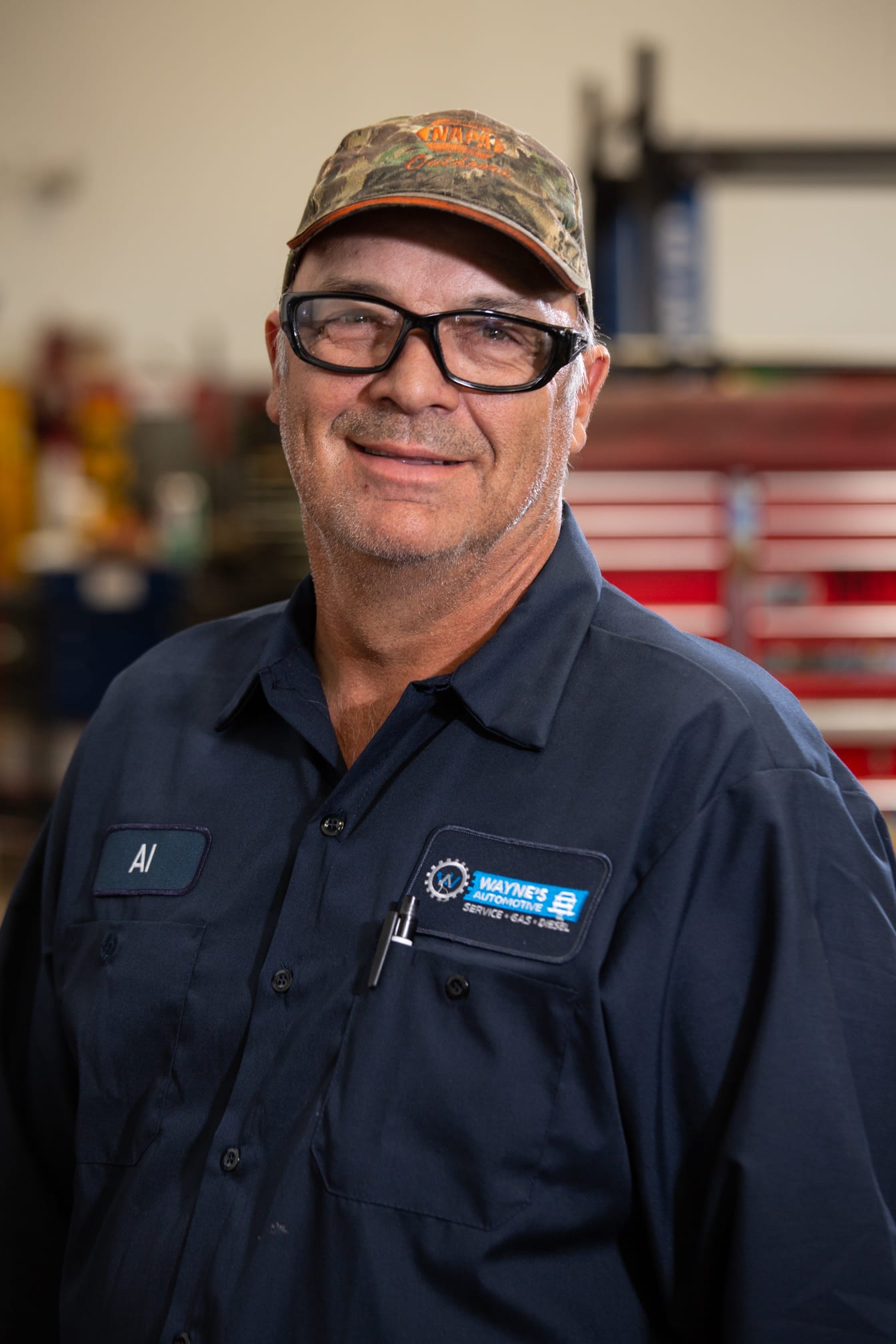 Allen - AutomotiVe Technician
Of the 42 years Allen has been in the automobile industry, 24 of those years has been at Wayne's. What's kept him at Wayne's Automotive for this long? He likes the people he works with and is not a big fan of change. Allen is a loyal employee and has only had three jobs in his life. His father was also a mechanic and owned his own shop. He has been married for 38 years and has three sons and three daughters along with seven grandchildren. His first car was a 1967 Chevy pickup that needed a motor. Being thrifty and practical, he used what was available and took the motor from a Jaguar sitting in his dad's backyard and put it in the Chevy pickup that he eventually raced at Pike's Peak. Now that's innovation.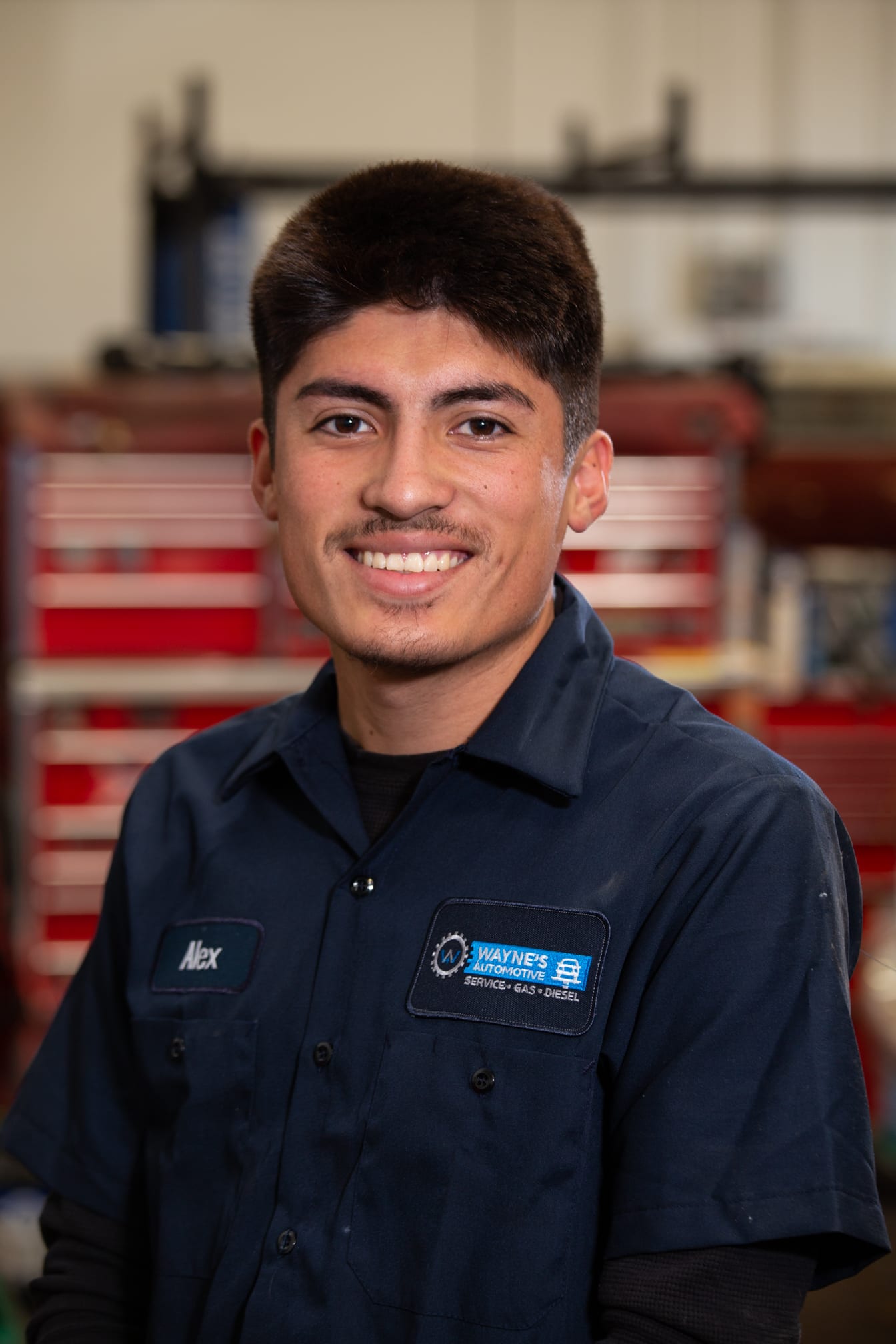 ALEX – LUBE TECHNICIAN AND NAPA APPRENTICE IN TRAINING
Having a father in the automotive business, Alex has been around cars ever since he can remember. He is currently in the NAPA apprentice in training program. In this program, Alex will train through various methods including classroom, online and hands-on training. For fun, he plays bass guitar and the tuba in a Mexican band. He's a hard worker who is dedicated to a career in automotive repair as well as music.
Financing Available
Cars are complicated; financing shouldn't be. Besides honoring all major credit cards, debit cards, and cash Wayne's Automotive also offers a simple path to funding through Synchrony Bank. Applications are available.
Napa Warranty
Wayne's Automotive Center is a NAPA AutoCare center. As a gold certified shop, all qualifying repair or service work comes with a FREE 3 year/36,000 mile "peace of mind" nationwide warranty through Napa AutoCare.