Cars are complicated.
Car care is simple.
Bring it to Wayne's Automotive.
"When I first moved to Reno one of my first questions was who is a good, reliable mechanic that I can trust? Thank goodness I was introduced to Dan and his team at Wayne's Automotive. They are kind and trustworthy. I highly recommend! Also, they provide complimentary rides to…"
Corrine Casanova 
"Was in quite a difficult situation. Needed my 7.3 Powerstroke looked at and only had one morning before I was scheduled to head out to Flathead Lake. I am not from the area, so I was at the mercy of whatever the shop said. New what the problem was and before I could even…"
John Norman
These guys and Stacy treat you like family…. They're my only go to. Andro and Rick are some dang good mechanics. Shout out to the guys in back also. You rock…. Im grateful for the quality work and the outstanding customer service they continue to provide! Plus the dog and…
Dejon Delaney Auto Repair
Cars are complicated. Car care is simple. At Wayne's Automotive, we want your vehicle running at its very best. Our ASE Certified Technicians will inspect and service your vehicle to get you back on the road in no time at all.
Diesel Repair
We are diesel engine repair and service specialists in Reno/Sparks. Many of our auto technicians specialize in diesel repair and service. These are the technicians that will work on your vehicle. Whether you drive your diesel truck for work or pleasure, we realize the importance of getting you back on the road again quickly.
Fleet Services
Need fast, reliable repair and maintenance for your fleet vehicles? We service all types of company and government vehicles. Let us custom design a fleet maintenance and repair package that is just right for you.
Need A Ride After You Drop Off Your Vehicle? We've got you covered With Our free TEsla Courtesy shuttle.
If you drop off your vehicle and need a ride back home or to work, we are happy to drive you there in our Tesla Model 3 courtesy shuttle. At Wayne's Automotive, we are always looking to see what's next in the industry. Alternative energy vehicles are our future. Request a FREE ride in our Tesla courtesy shuttle when you drop off your vehicle for a repair.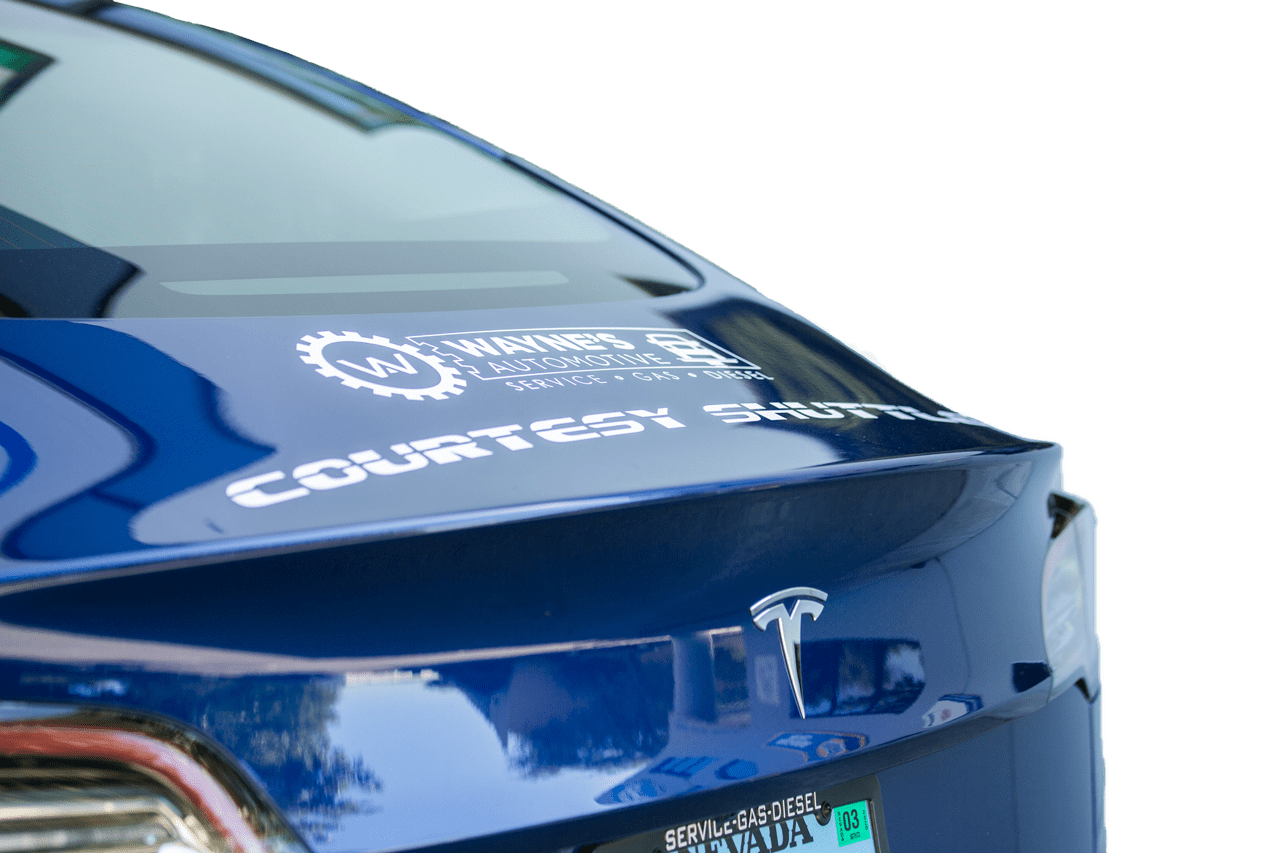 We will treat your vehicle like it is our own. We will report all service and repairs to CARFAX providing proof that your car has been properly maintained. All qualifying repair or service work comes with a FREE 3 year/36,000 mile "peace of mind" nationwide warranty through Napa AutoCare. OUR DIESEL MECHANICS ARE
A.S.E. CERTIFIED
With our extensive diesel repair experience, Wayne's Automotive Center offers a full line of diesel engine maintenance, service, and repair on diesel-powered vehicles. We work on all domestic and foreign cars, trucks, and many other diesel-powered units. All qualifying repair or service work comes with a FREE 3 year/36,000 mile "peace of mind" nationwide warranty through Napa AutoCare so your diesel unit is covered locally and across the country.
Free 3 Year 36,000 Mile Warranty

Full Line of Diesel engine maintenance

domestic and foreign vehicles
AAA TOP SHOP AWARD WINNER 5 YEARS IN A ROW 
2018, 2019, 2020, 2021, 2022
check out some of OUR 
AWARDS AND ACCREDITATIONS
Our customers keep coming back to Wayne's Automotive because they know we treat their vehicle like it is our own. Our friendly, knowledgeable staff provides excellent customer service. Our customers can feel confident that their vehicle is in good hands. We provide honest, fairly priced, high-quality automotive maintenance and repairs. Not only do our customers trust us, we are a AAA Approved Auto Facility. In 2018, we earned the AAA Top Shop award, the only garage to do so in Reno/Sparks; and then we kept doing it for five (5) years in a row. This award recognizes the best of the best—the most trusted auto repair facilities in the nation.
CALL US: 775-356-6996
"Wayne's Automotive fixed my car when four other mechanics, including Dolan Dodge, said they couldn't or were trying to charge me thousands of dollars for stuff I did not need. Wayne's had my car for only a few days and reasonably charged me. I'm more than ecstatic with there… "
"Wayne's service was tremendous. I was stranded 100 miles from Sparks in Lovelock, NV. My GMC duramax diesel would not start due to a fuel issue. AAA Roadside Assistance towed my truck and 5th wheel trailer to their shop. The vehicles were left with them diagnose and repaired a… "
"Very easy to work with. Fair and complete quote on cost and timing of repairs."