Have you ever been peacefully driving around Reno and Sparks when suddenly someone splashes your windshield with mud and dirt? All of a sudden you get a sinking feeling as you apprehend that you can't see anything. Quickly, you turn on your windshield wipers to wipe the muck away only to realize that no windshield wiper fluid is coming out! Now you have a smeared wall of dirt and grime that is completely blocking your view. How can you avoid this dangerous scenario?
First, you need to ensure your windshield washer fluid is full and ready to go to work. Now, you have probably seen the bottle of blue stuff before in the local store. You could certainly buy some and top things off, but is that the right decision? There may be a better solution.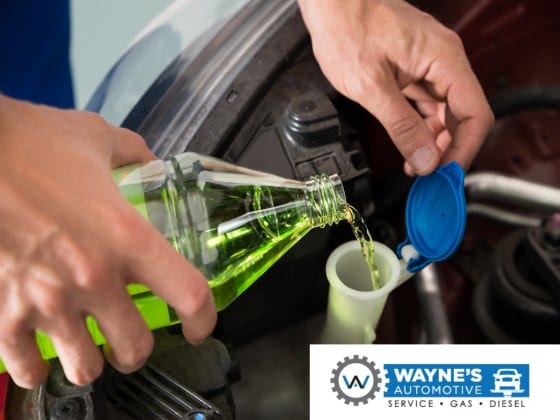 How about just using water? Why spend money when the hose will do the job? Well, if there is one thing we know ISN'T the correct choice, it's WATER! Do you know what happens when it's close to the freezing point outside, and you spray water on your windshield? You get a frozen sheet of ice blocking your view! Not only that, but water can freeze in your car's washer lines, damaging them and causing a repair shop trip.
Types Of Windshield Wiper Fluid
When shopping for windshield wiper fluid, pay attention to the climate ratings. There is a fluid for different climates, and they usually contain alcohol to prevent them from freezing in cold weather. Check the label to understand which fluid will be best for your area.
Some fluids have cleaning detergents in them to help cut through road contaminants like oil and dirt. The can also have proprietary chemicals to prevent streaking when the wiper swipes over them.
Final Thoughts On Windshield Wiper Fluid
Never forget to check the manufactures label. Some fluid is not meant to be poured undiluted into your washer fluid reservoir. You may need to dilute the liquid with water as it could be highly concentrated.
Pick the right fluid for your vehicle and always be prepared with plenty of it.
Our pros at Wayne's Automotive Center will always make sure your car is topped off and can even recommend some of our favorite go-to products. If for some reason your windshield washer system is not working correctly, we can handle that too! Wayne's can help with blades, motors, and washer lines. Our technicians will help you prepare so that you won't discover you need service when it's too late. Schedule an appointment with Wayne's today!