Are you driving around with a cracked windshield? Driving with a cracked or chipped windshield can be a dangerous driving situation. Let's take a look at when you need to replace or repair a damaged windshield.
According to an article at autotrader.com, "Dealing with a Damaged Windshield"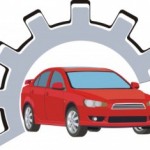 "WHACK! A rock just bounced off your windshield, leaving a dime-sized chip right in front of your nose. Not only does it obstruct your view, but if it's like other rock chips you've received, it'll soon sprout cracks that spread like wildfire.
There was a time when a chip or crack in your windshield meant certain replacement. That's no longer the case. Modern technology makes it possible to repair windshields that would have previously been scrapped. Not only does this save your windshield, it also saves you money.
But be aware that even the most advanced glass repair techniques have their limits. So if your windshield is severely damaged, new glass may still be in your future.
Do I have to replace my windshield or can it be repaired?
Windshield repair or replacement depends on the size, location and severity of the damage. The majority of windshield repair shops can repair quarter-sized rock chips and cracks up to three inches long. Anything bigger and most places will recommend replacement
However, some facilities use a special technique that allows them to repair cracks up to 12 inches long. So it pays to check around before committing to a new windshield.
Location of the damage also plays an important role in determining your windshield's fate. Cracks at the edge of the windshield tend to spread very quickly and can compromise the structural integrity of the glass. If they're caught in time, they can be repaired. But in most cases, it's usually advisable to replace the windshield." To read the entire article click here.
Why pay more for your auto repairs in Reno? Wayne's Automotive Center repair service is here to better serve you in the Reno and Sparks area. For more information contact Wayne's Automotive Center at 775-356-6996 or visit WaynesAutoCenter.com.