Typical stolen items from vehicles
Ok, Let's test our Reno and Sparks reader knowledge! Which items are the most stolen items from cars in our area?
Which is it?:
DVD System
Car Audio
Car Wheels
Air Bag
Stolen Airbags Are Valuable To Thieves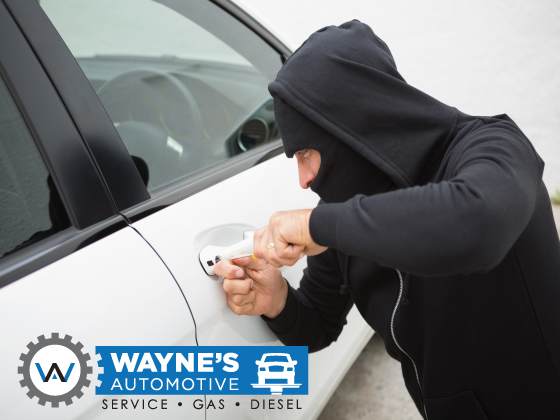 Most people will say Stereo, and if that is what you said, you used to be correct. But surprisingly, airbags have passed stereos as the most coveted items by thieves in Northern, Nevada. In fact, about 50,000 airbags are stolen from vehicles a year. On the black market, stolen airbags can sell from $50 to $200. This is a bargain when you consider that new, they would cost around $1,000.
What thieves do with airbags.
So what do thieves do with stolen airbags? They try and sell them to owners who have been in an accident, hoping they will buy because of the low cost. There are dangers with using one of these airbags. You can never be 100% certain of how those airbags have been affected. The last thing you want is for an airbag to not work when you need it.
Wayne's Automotive Center Can Help You With Your Airbags
Buy the way, if you are dealing with an airbag issue, the specialists at Wayne's Automotive Center can give you more information on when your airbags need to be replaced.
Statistics show that on average 1 in 25 airbag replacements are stolen airbags. You don't want to take chances with such an important car part. Wayne's Automotive Center recommends the following:
Find a reputable ASE certified repair center that can repair damages from your collision. (at Wayne's Automotive Center we can offer recommendations). Always inspect the invoice for your repairs to make sure the repair center used a manufacturer airbag when doing replacements. If possible, inspect the package
Hire a reputable repair shop to handle your airbag
Inspect the invoice to ensure that the repair shop purchased the airbag from a manufacturer, dealer or recycler. If you can inspect the airbag prior to installation, it should be packaged in a sealed container from the manufacturer.
Finally, when you start the vehicle, you should see the SRS light (Supplemental Restraint System) come on. This light indicates that the airbag is configured properly and working. If you don't see the light, it can indicate the airbag is not working correctly.