Wayne's Automotive Center is a qualified brake repair shop in Sparks, NV. When you are dealing with brake issues you need to keep in mind that safety should always be a top concern. Having your brakes checked is part of preventative maintenance. Your safety when driving around Reno and Sparks starts with reliable brakes.
Don't wait for that telltale grinding sound before getting your brakes inspected. Like most things in life, brakes wear down over time. Vital parts can crack and break. Experiencing issues with your car's brakes? Come into Wayne's Automotive Center in right away. We can help you get back on the road. Wayne's is your qualified brake repair shop, servicing both Reno and Sparks.
Signs Your Brakes Need Replacing
So what are signs that you may need to get your brakes looked at? Well, if your brake light is on you should definitely get in soon. A warning light indicates a serious issue that shouldn't ignore. Another indicator is the way the brakes feel when driving around Northern Nevada. Do they fill squishy or spongy when pressed? Are your brakes hard to press or does your brake pedal go all the way to the floor? If any of these situations occur, it is time to get your brakes looked at. If you hear a grinding, squealing, or clunking sound, it could be a sign of serious issues. Any vibration when braking can also be a sign of rotor warping.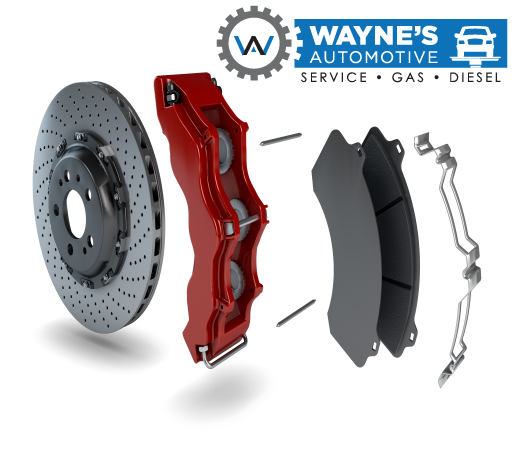 A Little About Brakes
There are two main styles of brakes, disc and drum brakes. Let's talk about disc brakes first. The main component in disc brakes is flat round pieces of metal called rotors. The rotor attaches to the axle of the vehicle. Brake pad calipers squeeze the rotor when you press the brake pedal. This squeezing causes friction that slows the vehicle. Drum brakes are similar but have brake pads (or shoes) that press outward toward the inside of the drum. Both of these methods help the car to slow via friction.
What Brake Pads Do
The service advisers at Wayne's Automotive Center are knowledgeable and friendly. Your service advisor will check your brake system. The most common element that wears out is the brake pads. At Wayne's, we will recommend replacing your brake pads if they are thin. Getting your brake pads replaced at Wayne's is an inexpensive repair. If you procrastinate, the costs to repair brakes can go up. If your brake pads wear away your rotors and drums will start to experience damage. Your only choice will be to replace or resurface your rotors and drums. These types of repairs are expensive. Besides, if your pads wear out, you are at a greater risk of accidents due to reduced stopping power.
When replacing brake pads, they come in a few different styles. Brake pads can be ceramic, regular, or metallic. The higher the grade of the pad, the more expensive they are. More expensive pads will generally perform better. If you want to experience smoother braking, you should consider upgrading.
Don't Forget About Your Brake Fluid
Without brake fluid, your brake system would not function. How does this work? When you press on the brake pedal you are compressing fluid in your brake lines. This compression causes calipers to move, thus activating your brake pads. If your lines don't have adequate fluid low pressure will result in reduced braking. Always make sure to check your brake fluid. Low fluid pressure prevents pads from pressing hard enough on rotors and drums. You don't want to be in an accident because you couldn't stop in time.
Another issue with brake fluid is water buildup. Water can cause corrosion in the brake system. Corrosion leads to leaks. Please consult your car manufactures manual for recommended brake fluid change intervals.
Remember, Northern Nevada drivers, safety is always first. Keep your brakes in good working order. Everyone on the road will thank you for it!