Do you find it difficult to control your vehicle? Is it the power steering or could it be that your alignment needs to be adjusted? Let's take a look at warning signs that your cars alignment needs to be seen by your local Reno auto repair shop.
According to an article at pinellasautoradiator.com, "Alignment Auto Repairs Service"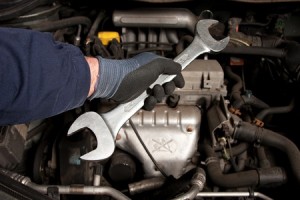 "Your car might have an alignment problem if: it drifts or pulls to one side, your steering wheel is off center, you have uneven tire wear or your car doesn't feel like it handles right. When all of a vehicle's wheels are lined up exactly with each other, your wheels are in alignment. Running into potholes, smacking a curb or other object are great ways to knock your car out of alignment. Then one or more of your wheels starts pulling in a slightly different direction and the problems begin.
Driving for an extended time when you're out of alignment causes your tires to wear unevenly and excessively. This can be dangerous and expensive. You'll have to replace your tires sooner, but even worse – you may cause premature wear to your suspension system, which can be really expensive.
The front wheel alignment is adjustable on all vehicles, and the back wheels are also adjustable on some cars. The adjustment can go three different ways. The first adjustment is called toe. The next adjustment is called camber. And finally, there is castor. The engineers who designed your vehicle determined the alignment settings that will give you the best handling and safety.
There are several things involved in an alignment check. First, there's an inspection of the steering and suspension – it should be checked to see if anything's bent or broken. Then the tire condition needs to be inspected. From there, the vehicle is put on an alignment rack and an initial alignment reading is taken. If all four wheels are adjustable, they are lined up perfectly parallel with the vehicle's center line." To read the entire article click here.
Why pay more for your Reno auto repairs? Here at Wayne's Automotive Center we offer alignment repair service at reasonable rates to better serve you. For more information contact Wayne's Automotive Center at 775-356-6996 or visit WaynesAutoCenter.com.