Do you feel pulsations or vibrations when the brakes are applied? Let's take a look at warning signs that your brakes need to be seen by an auto repair expert.
According to an article at angieslist.com, "Warning Signs that Your Brakes Need to be Replaced"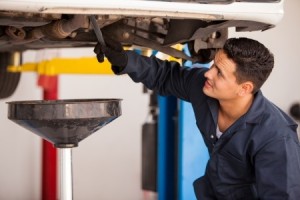 "Signs you need brake repairs
Although brake components such as brake pads and brake rotors are designed for durability due to their frequent use, like many car parts, brake components do eventually wear down and necessitate replacement. There are some obvious, and not so obvious, signals that indicate brake repairs are needed.
Squealing
If you notice a high-pitched squealing sound when you apply the brakes, it's a good indicator that your brakes need to be replaced or at the very least inspected. This is the most common indicators brake re-pairs will be needed. Many vehicle and brake component manufacturers engineer wear indicators into their brakes to produce this sound to notify the driver brake work is needed.
Other factors that can produce a high-pitched squealing from the brakes include a build-up of brake dust from the brake pads being worn down, debris or rust on the surface of the rotor or brake pads be-coming glazed over from high heat. Due to the multiple possible causes that can produce squealing brakes, including improper installation, missing anti-rattle clips or poor surface contact with the rotor, it's a good idea to have your brakes inspected when you hear squealing.
Grinding
The sound of brakes grinding is not only cringe-inducing, it's a sure sign something's amiss with your vehicle's braking system. If you hear grinding sounds when you apply pressure to your brake pedal, it means the pads weren't replaced in time or something is rubbing against the brake rotors the wrong way.
The brake pads may be beyond their wear limit, they may be coming into rough, uneven contact with the rotors, or it can be something more sinister like brake calipers or pistons grinding against the rotor (they're not supposed to). Get your brakes inspected and repaired (if necessary) immediately.
If the brake pedal feels squishy or produces vibrations or pulsations when pushed, it's a good indicator brake repairs are needed.
Pulsations or vibrations when the brake pedal is applied
Feeling pulsations or vibrations when you apply the brake pedal typically indicates the brake rotor is significantly warn or warped. Effective braking power relies on the brake pads and brake rotor coming into contact cleanly, which is the entire surface brake pad contacting the brake rotor simultaneously.
A rotor that is warped by friction or heat, or worn beyond acceptable limits, can create vibrations or pulsations; it's a sure indicator you should visit a brake specialist or auto service center as soon as possible. However, pulsations or vibrations should not be confused with a vehicle's anti-lock braking system, which prevents the brakes from locking when heavy brake pressure is applied, particularly in slippery driving conditions such as rain, snow or ice." To read the entire article click here.
For qualified Reno auto repair service with significant savings over dealership prices. To schedule your auto repair service contact Wayne's Automotive Center at 775-356-6996 or visit waynesautocenter.com.