When It Comes To Tire Tread Depth, Don't Tread Lightly
When it comes to tire tread depth, the federal government doesn't set any standards, but 42 states do! In those state, 2/32 of an inch is legally considered to be the minimum tread depth. Two of those states, specifically California, maintain 1/32 as there minimum. Drivers in Reno and Sparks can call Wayne's Automotive Center (775-356-6996) to understand any special regulations Nevada may have.
Tire Tread Depth Regulations
At the federal level, the government passed a law in 1968 that required manufacturers to mold a bar in each tire. As the tire wears down, it eventually exposes that bar as a sign that a tire is in dire need of replacement. The bar appears when there is just 2/32/1.6mm of tread left. But here is the question, do you want to rely on that old standard to tell you it's time?
A Current Tread Depth Recommendation
A current recommendation from Consumer Reports recommends you replace a tire when the tread is measuring 4/32 inch or 3.2 mm. This recommendation backs studies that are thought-provoking and compelling. Before we dive into the various studies, the main issue with tire tread is braking on slick surfaces. The brakes of a vehicle are not the only thing working to stop the car. The tires are critical and perform a job as well. When you are driving around Reno and Sparks in the winter, you will want both to be in proper working order.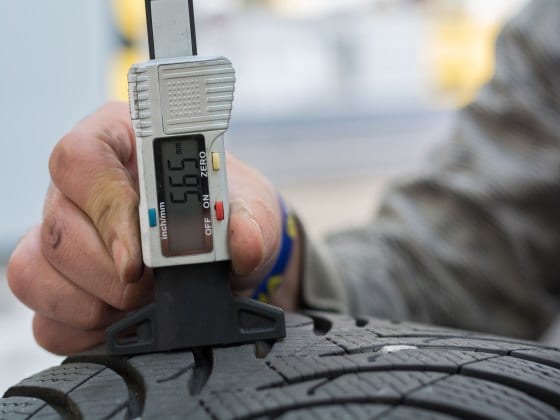 Here is a scenario: The rain has just come down unexpectantly like it can in Northern Nevada. You find yourself driving over a water-soaked stretch of highway. To stop a car properly in an emergency, a vehicle's tires need to have good contact with the road. To keep this contact, the tire tread has to channel the water away from the casing so that it doesn't begin to lose traction. If your tread is not thick enough the tire can start to float on a thin film of water causing a condition known as hydroplaning.
Tire Tread Depth Studies
Now we get to the studies. Reno and Sparks drivers would be surprised to know the test conditions. We are not talking about a foot deep of water on the road. If you laid a dime on the test surface, the water would surround it but not cover it. With this scenario prepared, a car and full-sized pickup were brought up to 70mph/112 kph and then brought to a hard stop in the wet test area. Distance and the time it took to come to a complete halt were measured. The measured this for each vehicle and with two types of tires. One set of tires had full tread. The other set of tires were worn down to 4/32 inch/3.2 mm of tread.
Car Tread Depth Results
What were the results? As the car with the legally worn tires braked and reached the distance of the vehicle with the new tires, it was still traveling 55 mph/89 kph. So if you found yourself trying to stop suddenly with brand new tires, and just barely making it, with the worn tires, you would see yourself hitting whatever was in front of you. The stopping distance nearly doubled.
The car and truck with the Consumer Reports recommended tires (4/32 inch/3.2 mm) tread were still going 45 mph/72 kph at the point the new tires brought the vehicle to a complete stop. Not great, but much better than the legally worn tires. You can see why Consumer Reports recommends the adoption of a new standard.
Truck Tread Depth Results
Also, the results for the truck were even more surprising. The truck needed almost 1/10 of a mile (.16 km) of clear road ahead to come to a safe stop. How many Reno and Sparks drive with this kind of distance between them and the next driver? Since most people don't drive with this much space, it can be a safety concern.
One final note: they used the same brakes in all tests, the only variable being a differing set of tires.
Testing Tire Tread Depth Yourself
How can Northern Nevada drivers know when their tires have reached that critical 4/32 inch/3.2 mm? You can use something straightforward like an American quarter. Just put it into the tread upside down. If the tread doesn't cover the hairline of our famed President George Washington, then it's time to replace the tires.
So you may think about saving money on tires by squeezing out a little more time from them but based on the above results, you probably want to rethink that thought. Driving on worn down tires is like playing a game of Russian roulette.
So, let George Washington check your tires today and if he doesn't feel right about them, come to visit us at Wayne's Automotive Center in Sparks, NV.