Is it time for new tires? Do you know how to determine your tires wear and tear? Here are tips on how to determine the condition of your tires.
According to an article at carcare.org, "Tire Tips"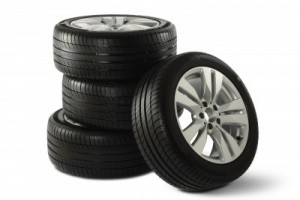 "It only takes a penny to see if your tires are worn or losing tread. Examining your tires for wear and tear, along with checking tire pressure and alignment, are essential to ensuring your vehicle's safety on the road and helping to improve gas mileage and performance. The non-profit Car Care Council recommends that motorists be car care aware and check tire condition and pressure regularly.
"The penny test is a simple, yet effective, way to check tire tread. If you see Lincoln's head above the tread, you are ready for new tires," said Rich White, executive director, Car Care Council. "Tires are critical to a vehicle's handling and traction, and maintaining proper pressure is vitally important to vehicle safety. Underinflated tires are under stress and will wear unevenly, causing them to need to be replaced sooner. Routinely checking tire balance and wheel alignment reduces tire wear, improves handling, and increases fuel economy."
According to the Car Care Council's popular Car Care Guide, vehicle owners should check the pressure of all tires, including the spare, on a monthly basis and more often during colder weather. In addition, the tread should be checked for uneven or irregular wear as well as cuts or bruises along sidewalls. Tires should be inflated to recommended pressure levels, rotated every 6,000 miles to promote uniform tire wear and be replaced if worn or damaged." To read the entire article click here.
Why pay more for your auto repairs in Reno? Wayne's Automotive Center repair service is here to better serve you in the Reno and Sparks area. For more information contact Wayne's Automotive Center at 775-356-6996 or visit WaynesAutoCenter.com.