When they hear the word suspension, many motorists in Reno and Sparks may think back to those energetic days of grade school. Well, your vehicle's suspension is a good thing because it keeps your car up off the road and helps provide a comfy ride around Reno and Sparks. Its mission is to keep your wheels firmly planted over bumps and through curves. Your suspension system has many parts. If you look at your vehicle, it's everything that attaches your wheels to the vehicle's frame. These are heavy duty components that do a lot of work. They need to be examined for breakage and excessive wear at least once a year. A good time for this is when you get your annual alignment service at Waynes Automotive Center.
Here are some warning signs of suspension difficulties: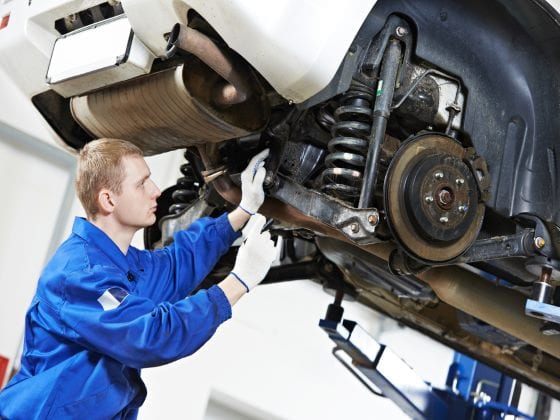 the car wanders
the steering is inconsistent
uneven tire wear
bad ride or handling
oil dripping from shocks
the car is hard to control when driving
Some suspension components just wear out with usage. Shocks and struts ultimately lose their ability to control your ride. Wheel bearings need to be repacked every couple of years. And some suspension pieces need to be lubricated when you get your oil changed. Your service advisor at Waynes Automotive Center can perform an inspection and tell you what problems you may have.
What about accidents?
If you're in an accident, your suspension can be damaged or knocked out of alignment. Even a minor accident, like hitting a curb around Reno and Sparks or even a large rock can mess things up for drivers. With a small collision, it's tempting for many just to get an alignment or wheel balance to correct the problem. But if there's damage, a simple alignment won't fix the issue, and you'll just have to align it again after the adjustments are made. So if you are in a collision, get your suspension system inspected right away. Problems with suspension can be a concern as they can lead to unsafe handling of your vehicle.
One big reason for suspension damage for Reno and Sparks drivers is potholes – those nasty holes that form in roads in cold weather. Why does it seem so hard to avoid them when driving? Here are some suggestions for bypassing damage from potholes: First, keep your tires at their full air pressure. That gives tires their most resiliency and will probably help your tires from bottoming out when they hit the next pothole. Next, just pay attention. When you notice a hole you can't miss, decrease your pace before you hit it. Driving at a moderate speed will limit the damage and may keep your drink from spilling. But avoid the lure to brake directly over the pothole. That will cause the car's weight to shift forward and add to the possible damage.