Did you know that spring is prime time for auto maintenance? Let's take a look at recommended seasonal auto service tips that will help keep your vehicle in tip-top-shape.
According to an article at angieslist.com, "Spring Auto Maintenance"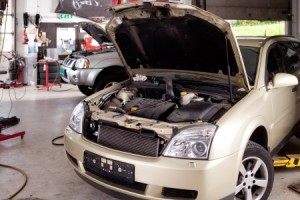 "Remove leftover salt
Salt, used on roads to melt ice and snow, can cause serious damage to cars, especially their undercarriages where metal can rust. Take your car to a highly rated car wash to eliminate salt, and check that the business has sprayers that clean the undercarriage.
Check alignment and suspension
Driving over potholes can damage your car's alignment and suspension, says Scott McClure, owner of highly rated Westerville Automotive in Ohio. You might have a problem if you notice that the car pulls to one side or the steering wheel vibrates as you drive. An alignment check typically costs $25 to $40.
Change oil and check fluids
"If your last oil change was before winter, then this is a great time to do it," says McClure. He adds that spring is also an ideal time to flush your transmission fluid. "It's one of the most neglected services," he says. "It's a very costly repair – between $2,200 and $4,200 – if you have to rebuild or repair (a transmission)."
Mechanics recommend changing your car's oil every 3,000 to 5,000 miles. Don't forget to check window washing fluid levels, as well as your brake and cooling system fluids.
Rotate tires and check air pressure
"You should check the tire pressure, including the spare should you ever need it," says Leann Kinney, owner of highly rated Jeff's Auto Service in Hopkins, Minnesota. "You car's tires affect the ride, handling, traction and safety." To read the entire article click here.
For quality auto repair service Wayne's Automotive Center ensure a hassle free auto repair experience. For more information contact Wayne's Automotive Center 775-525-9366 or visit waynesautocenter.com.