Signs that Your Brakes Need to be Repaired in Reno Nevada
There's no doubts that your brakes are the most important safety device on your vehicle. The next time your hear something odd when you press on the brakes, listen for these signs that your vehicle needs auto repair service immediately.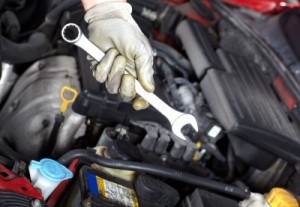 According to an article at industrialbrakeandclutch.com, "Vehicle Brake System"
"The longer you use your brakes after the first indication they need service, the higher the possibility you will not only have to pay for routine service, but you increase the chances that real damage can occur.

The Seven Signs
1. Low Brake pedal or brake fade
The brake system relies on hydraulic pressure to activate the brake assembly and stop your automobile. Under normal conditions, brake line pressure should remain constant and provide consistent brake pedal pressure. Brake fade indicates that something has occurred that is diminishing the effectiveness of the hydraulic circuit.
2. Vehicle pulls to one side during braking
Car pulls to one side when the brakes are applied frequently indicates the brakes are out of adjustment. Over time, improperly adjusted brakes will result in uneven brake wear, diminished vehicle handling during braking and can increase the possibility of an accident during emergency stopping. A sticking caliper piston will cause braking to be uneven and lead to uneven or premature pad wear. It may also cause the brakes to overheat if the caliper freezes with the brakes on.

3. Shimmy
Brakes rely on friction to stop vehicles. To accomplish this, a flat cast iron disc called a rotor is bolted to the wheel. When the wheel turns, the disc also rotates. Stepping on the brake pedal pressurizes the brake's hydraulic circuit causing a vice-like device called a caliper to force the brake pads to grip the spinning rotor. The caliper causes enough friction between the pads and the spinning rotor to slow or stop the wheel. However, the rotor can become warped over time due to overheating, rapid cooling or prolonged use. If the rotor becomes warped, when the pads attempt to grip the spinning rotor, they are unable to grip the entire rotor surface, but rather are only coming into contact with the highest portions of the rotor. The pedal may tend to pulsate or you may feel the steering wheel shake as the brakes are applied." To read the entire article click here.
Don't neglect your brake system bring your vehicle into the best Reno auto repair shop, contact Wayne's Automotive Center at 775-525-9366 or visit waynesautocenter.com.