Properly Working Struts and Shocks Are Important To Safety
Many Reno and Sparks drivers probably don't think of their shock absorbers as an essential safety system, but to the contrary, that is precisely what shocks and struts are. Shocks and struts help ride control – keeping your vehicle tires in contact with the road and managing body motion.
How Vehicle Shocks Function
Whenever you hit a bump or pothole on a Northern Nevada road, your tire is bouncing up, as this is the natural dynamic of inflated rubber. The bigger the hole or bump, the bigger the bounce. How your shocks and struts help in this situation is that they push your tire back down to the road. This action helps maintain the traction you need to start, stop and turn.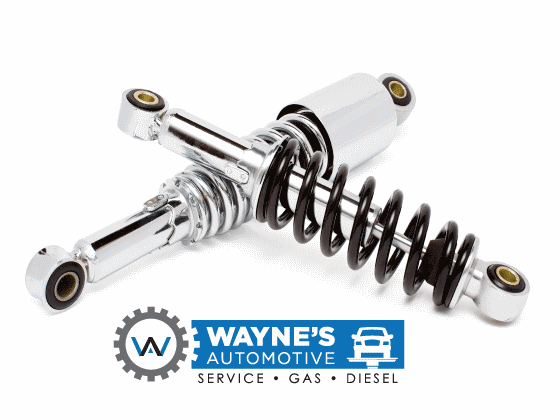 Signs Your Shocks Need To Be Replaced
If you've ever driven in a car or truck with bad shocks, you know how it flounders on corners. The front end dips when you hit the brakes, and the rear end sits when you accelerate. It's not only uncomfortable; it is tough to handle.
You may have heard autos described as having "flat corner
ing." That suggests that when you drive through a corner, the body doesn't roll very much. When shocks begin to get worn, your car will roll more on corners. The mass of your vehicle's body shifts and tosses your car or truck to the outside of the curve, making it difficult to control.
With sound shocks, you can swing through corners with confidence. When the shocks are beginning to fail, the cars frame rolls too much, and you need to reduce speed to maintain the same level of control. When you merge brake dive with body roll, you can instantly end up with an unstable and unsafe handling situation.
The Profession's At Wayne's Can Help Your Ride
Shocks can break or start to drip, but they usually wear out. After all, your car's shocks will travel up and down over 75 million times in 50,000 miles/80,000 km. If you replace shocks at Wayne's Automotive Center in Sparks, it will return your vehicle's original ride control and quality. You can even improve shocks and struts if you want better handling or towing capacity on NV roads by upgrading them.
Shocks are an essential safety system: don't wait until they are entirely shot, perhaps risking your safety or damaging other suspension components. At Wayne's Automotive Center we can help you with quality shocks and struts as advised in your owner's manual, usually at around 50,000 miles/80,000 km, for a comfortable, safe handling ride in SPARKS.
Give us a call.
Wayne's Automotive Center and Xpress Lube
55 CONEY ISLAND DR
SPARKS, NV 89431
775-356-6996