Signs Of A Car Alignment Issue
Drifting to one side while driving could be a sign of a car alignment problem. If you look at your tires and notice uneven tire wear, or when you drive your steering wheel is off center, or your car doesn't seem right and smooth while driving then there might be an issue. To be in alignment, all of your wheels need to precisely in line with each other. Running into potholes around Reno and Sparks and hitting a sidewalk curb can push your car's tires out of alignment. Ignoring these types of events can lead to the problem of your tires pulling to one direction or another.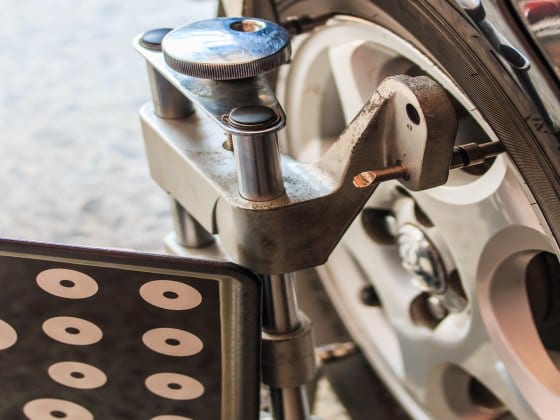 How We Check Your Car Alignment
When you bring your vehicle into Wayne's Automotive Center, there are several things that we will check to ensure you are driving straight and true. The first items checks are with your steering and suspension systems. Each component of these systems is tested to find any bent or broken parts. Secondly, we will take your vehicle and put it on an alignment rack. We can get an initial reading of your alignment with this precise tool. If your wheels are off an adjustment can be made to bring them back into perfect alignment. Sometimes the back wheels cannot be adjusted. In this case, Wayne's Automotive technician will align the front wheel to match the rear wheels.
The Road Can Be Hazardous To Your Vehicles Alignment
When it comes to alignments, most manufacturers will recommend a check at a certain number of miles. Manufactures base their milage recommendations on typical driving patterns. Of course, the hazards of daily driving can bring you in sooner, especially if you hit a pothole, curb, or something else significant in the road. There is nothing worse than the feeling of catching one of these obstacles. By the impact, you know it probably needs to be checked, but you hope it didn't cause any severe damage. If you wait to see signs of uneven tread wear, then it could be too late.
Wayne's Can Handle Your Alignment Needs.
Getting your alignment checked at Wayne's Automotive Center in Reno and Sparks when needed is a great way to maximize the tire life of your car and also it's suspension parts. It also makes sure that your tires meet the road adequately for maximum performance and safety. At Wayne's, we have seen it all and can help you understand what is needed to fix the problem. No fuss and no fluff. Stop by Wayne's today and let us keep you driving straight and true on the Northern Nevada roads.