Most Northern Nevada service centers have a menu board that lists common automotive services available. We want to help our customers be familiar with the services we provide. Here is a list of common things you might see:
Fuel System Cleaning
After long periods of continued use, a fuel system can start to build up varnish and gum that impedes the flow of fuel. Getting a fuel system cleaning service done on your vehicle can help keep your fuel injectors operating smoothly.
Headlamp Replacement
There is nothing worse than fading or dim headlamps. Fade happens over time, and it's usually a good idea to have the halogen or standard headlights replaced. Replacement should ideally occur every year.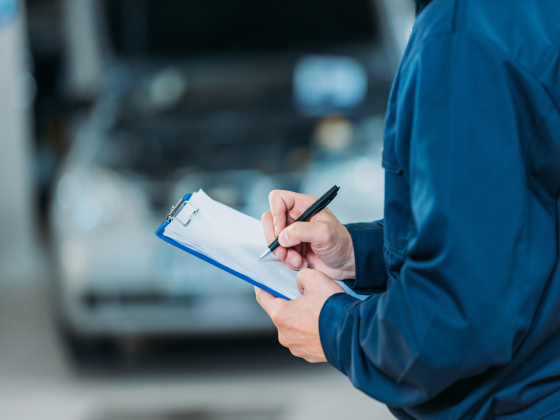 Inspections
Reno and Sparks drivers get inspections for many reasons. Maybe they're going on a trip or want to make sure their vehicle's ready for an NV summer or winter. Perhaps they just bought a used car and wanted to give it the once-over. An inspection can verify if there are components that are close to a failure point or need replacement.
Oil Change
There are several options: Some Reno and Sparks garages offer a full-service oil change which includes filter and oil as well as a top off of any low fluid. You can also opt for an oil and filter change only. In my way of thinking, the full-service work is the preferred option due to the top-off of vital fluids and the ability to investigate deeper for potential problems. You also can talk with Wayne's about higher mileage fluids or upgrading to synthetic oil.  Of all the automotive services, an oil change is one of the most common.
PCV Valve Replacement
So what is PCV? PCV is an acronym for Positive Crankcase Ventilation. The PCV valve is a part that releases the buildup of pressure for a car engine. If the valve gets corroded with gum, it can lead to motor damage. It's a good idea to change the PCV now and then.
Power Steering Service
Often overlooked. Your friendly and knowledgeable Wayne's Automotive Center technician will evacuate the old fluid, clean out the system and replace it with clean fluid. Keeps the vehicle system running well for a long time.
Serpentine Belt Service
The serpentine belt is a critical belt that powers many other systems on the engine. It powers the alternator, power steering, brakes, and air conditioner. There is nothing more disheartening than being stranded because of a broken serpentine belt, so replace it before it breaks.
Shocks And Struts
This begins with an inspection of the shocks and struts. These components last a long time, so drivers in Reno and Sparks don't notice when it's time to change them. If they're worn or leaking, you may need to replace the shocks.
Transmission Service
A standard transmission service includes removing old transmission fluid and replacing it with brand new fluid.
Tire Rotation And Wheel Balancing
The tires are rotated from front to back using the recommended rotation pattern. Balancing helps tires wear evenly. Tires should be moved from front to back, side to side, from time to time to prevent bounce and wobble. Balanced tires help the ride and save tire wear.
Wayne's Can Cover All Your Automotive Services Needs!
Talk to the friendly professionals at Wayne's Automotive Center for addition