Many drivers are not a fan of the summer heat, but it's important to remember to check under your vehicle's hood to maintain its cooling system. Let's take a look at four tips on how to maintain your vehicle's cooling system this summer.
According to an article at angieslist.com, "How to Prevent Roadside Breakdown During the Summer Months"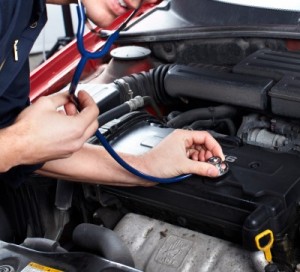 "For drivers who don't enjoy intense heat, getting into a car that has been parked in hot weather can feel like being roasted alive. Stay cool and get more out of your summer by using these tips to keep your car cooler when parked:
1. Use a sunshade or window visor. This tried-and-true method of keeping your car cool should be your go-to option to counteract hot interior temps throughout the summer. Put up a sunshade or window visor every time you exit your car for more than a few minutes. Keep it even cooler for long periods by putting a sunshade in your rear window as well.
2. Use a dash cover. A fabric or upholstered dash cover can go a long way towards making your car's interior more comfortable. You won't feel as overwhelmed by the heat if you don't have to touch hot vinyl surfaces. Dash covers also protect sensitive vinyl from sun damage that can cause cracking and fading.
3. Cover your steering wheel with a hand towel. Even if you use a sunshade, it's a good idea to cover your steering wheel with a small towel. This will help to keep the contact temperature of your steering wheel down.
4. Park in a shady area. Whenever possible, park in a shady area. If you're going to be somewhere for an extended period of time, it's worth it to walk a bit farther." To read the entire article click here.
For qualified Reno auto repair service with significant savings over dealership prices. To schedule your auto service contact Wayne's Automotive Center at 775-356-6996 or visit waynesautocenter.com.