Will you be one of the many families traveling this upcoming holiday season? Before you hit the road, do you know what you should have in your vehicle? Here's a list of items you should be traveling with in your vehicle.
According to an article at collisioncenters.wordpress.com, "Road Trip Check List"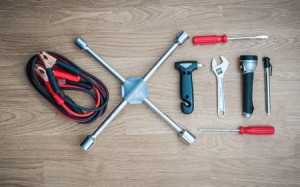 "Here is a list of the 10 most important things you should have in your vehicle no matter the season.
• Insurance information & vehicle registration- very important when dealing with the law or if you have an accident.
• Flashlight & spare batteries- There are many reasons to have a flashlight in your vehicle! Break downs, flat tires or other late night adventures.
• First aid kit- just a basic kit will work, you most likely won't be doing surgery. Band-Aids, antibiotic ointment, aspirin & gauze can come in very handy!
• Jumper Cable- Obviously if you need a jump chances are no one else has them in their vehicle. Be prepared and always have a set in your vehicle.
• Tool Kit-a small set of wrenches, duct tape, crowbar, strong adhesive, Swiss army knife are all good ideas. You can add what best fits your tool box needs.
• Tire repair kit/spare tire & gage. Tires are important so having a spare or a repair kit is very important." To read the entire article click here.
Why pay more for your auto repairs in Reno? Wayne's Automotive Center is here to serve you in the Reno and Sparks area. For more information contact Wayne's Automotive Center at 775-356-6996 or visit WaynesAutoCenter.com.