Do you follow the recommended oil change schedule on your vehicle? The importance of an oil change is vital to prolong the life of your vehicle. Let's take a look at key points to consider when getting an oil change.
According to an article at reviewjournal.com, "What You Should Know Before Getting an Oil Change"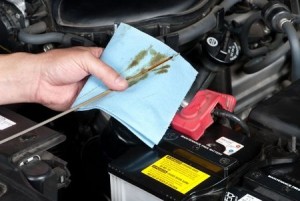 "With more than 300 million vehicles on the road today, motor oil is the lifeblood of any engine and can help protect and prolong its life, whether you're driving a compact car, pickup truck or SUV. However, not just any motor oil will ensure the healthy life of an engine and, unfortunately, discounted deals for an oil change may not be such a deal after all.
With consumers looking to reduce their automotive maintenance costs, service locations can be quick to offer discounted services to capitalize on value seekers. How can a consumer be sure he or she is getting a quality motor oil and filter as part of the deal? A promise of "up to five quarts conventional oil" doesn't really tell the consumer much about the quality of the oil being installed.
"I can't stress how important it is to be 'in the know' when it comes to motor oil changes and to understand that there is a big difference between a value and just a cheaper deal," says automotive expert Lauren Fix, or the "Car Coach" as she's known around the nation. "If drivers choose to have a professionally installed motor oil in their vehicle, it's a must for them to confirm what that shop is actually pouring into their car."
Motor Oil Matters (MOM), a new consumer education and industry watchdog program by the American Petroleum Institute, has been established to stress the benefits of quality licensed motor oils and call onto the carpet those who engage in deceptive practices.
MOM and Fix recommend consumers arm themselves with a simple checklist of questions to help them make informed decisions about motor oil:
Time for a change?
The bottom line: Follow the oil change recommendations in the vehicle's owner's manual. Pay close attention to the oil life monitor if a vehicle has it. When the monitor says it's time for a change, it's time. Drivers need to pay close attention to their vehicle usage because vehicle manufacturers sometimes recommend oil drain intervals based on driving habits.
Do you know what you're getting?
Your service provider should be happy to supply you with the brand, viscosity grade and performance level of the oil they use before it is poured into your vehicle. It's also important to ask for that information in writing or on the receipt. Drive away from locations that don't know or won't confirm in writing what they're pouring into your vehicle." To read the entire article click here.
Wayne's Automotive Center is here to better serve you in the Reno and Sparks area for all your auto repair needs. For more information contact Wayne's Automotive Center at 775-356-6996 or visit WaynesAutoCenter.com.