Green Auto Care Tips in Reno Nevada
With Earth day around the corner, how about showing your car some love on this day. Here are some green auto tips to help celebrate the day in Reno Nevada.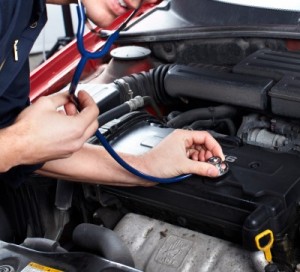 According to an article at greenliving.about.com, "Earth Day and Car Care"
"Wouldn't you love to wake up tomorrow and find a new car with great gas mileage sitting in your driveway? We all would, but if the Hybrid Fairy forgets to leave you a new Prius, here are some tips for making your current vehicle a greener ride. With good auto maintenance and smarter driving, you can save gas in your car today.
1. Keep Your Existing Car
If you're tempted to trade in the old jalopy for a shiny new car with a better MPG rating, remember that not buying new products is one of the most environmentally sound choices you can make. This holds true even for green products like hybrid vehicles. When you think in terms of a car's entire product cycle — including the impact of manufacturing and shipping a hybrid vehicle — it makes more sense to extend the life of your existing car than to junk it for a new one.
2. Slow Down to Improve Gas Mileage
Hey lead-out, what's the hurry? Blasting off from green lights and squealing around corners are great strategies in the Indy 500, but according to the U.S. Department of Energy, they also lower your fuel economy by 30 to 40 percent. Aggressive driving also adds wear and tear to your tires, brakes and engine, presents a serious safety hazard – and it's only a matter of time before you get a speeding ticket. Try to maintain a steady rate of speed, anticipate stops, and accelerate gradually, and you'll be surprised how much longer your gas needle stays near the "full" mark.
3. Tires and Gas Mileage
A car is really only as good as its tires. When's the last time you looked at yours? A tire pressure gauge is one of the cheapest tools you can own, and not only can it save you from a flat, it can also save you money on gas expenses. Inside the driver's door is a plaque that lists the recommended size and air pressure of your tires. Tires always seem to choose the worst time to go flat, so while your checking the air pressure also take a look at your tires' tread pattern, and consider a replacement if any are looking bald. Tire manufacturers are always finding new gas-saving tire designs; find tire reviews and gas mileage information at TireRack.com and 1010tires.com
4. Stay in Tune and Save Gas
Because a well-tuned motor runs more efficiently, getting a regular tune-up is like saving seven to 10 cents a gallon at the gas pump. Some problems, such as a faulty oxygen sensor, can reduce your gas mileage by up to 40 percent. And consider splurging on a high-quality synthetic motor oil with energy-conserving compounds — they'll have an "Energy Conserving" label on them, courtesy of the American Petroleum Institute. Most states allow mechanics to charge an oil-disposal fee, which helps to ensure that your used motor oil gets recycled."
To read the entire article click here:
For professional dependable auto service in Reno Nevada, visit WaynesAutoCenter.com for more information.