New Tire Buying Basics Tips
Everyone in Reno and Sparks, NV eventually replaces their tires. They do this because they're worn out, or they're just looking for something different. There are so many tire choices in the Reno area that selecting the right one can be a bit overwhelming for drivers. And even though it's fun to have new tires on your vehicle, they're a significant investment for most Reno area folks. Since new tires are expensive you want to do it right.
Tip: talk with your friendly and knowledgeable Wayne's Automotive Center tire professional. He'll help you sort through the choices.
Here are some of the issues you'll talk about: One is size – you know, all those numbers on the side of the tire. The right size is found in the owner's manual or on tire label on the driver's side door jamb. All new vehicles require stability control which, along with other critical safety systems, is calibrated to work with specific tire sizes. Your Reno tire professional can help stay within manufacturer's specifications or program a different tire size into your vehicle's computer.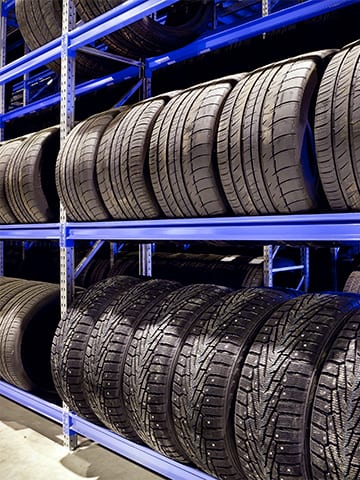 Types Of New Tires
And you'll want to discuss how and where you drive to determine the type of tire you need: summer, winter, all season tires or all-terrain. There are tires for every Reno auto owner's needs. Let's group the broad spectrum into several categories that will help in the selection process.
We refer to one category as "summer tires." This category of a tire is designed to be driven on the highway when temperatures are generally above 45 degrees F (7 degrees C). "Summer tires" are optimized for traction on dry roads around Nevada, and they're also able to displace water on rainy roads effectively.
If you live where it is warm all the time, then summer tires can be an appropriate choice. Consider switching tires in the following scenario. If you like high performance in hot weather, but still live where it gets chilly and icy. The tire switch will be between summer tires and winter tires as the climate starts to turn.
There's a range of tires within the winter tire category. If you live where there's a lot of snow and ice, look for the mountain and snowflake icon that signifies a severe snow rating. If you have milder winters and still want a performance component, they make a winter tire for you as well.
For a lot of drivers, an all-season tire will do the trick. It will not give the same performance at the extreme ends of the summer and winter spectrum, but the tire will provide an overall performance for more extended periods of time in either climate. Since the weather can be unpredictable in Reno and Sparks, NV, these might be the best choice of tire.
New Tires Are An Important Investment
Tires are a significant investment. You need a good return on your investment. Now that doesn't always mean the cheapest tire. A top tier tire from Wayne's Automotive Center will last a long time giving good performance throughout its life. Tires sold in Reno bargain tire shops may not live up to that promise. Your friendly and knowledgeable tire professional at Wayne's Automotive Center can give you options. We can offer the best long-term value within your immediate budget.
Last, with a 2-wheel drive vehicle, it's always recommended to replace both tires on an axle. Modern sensors and microcomputer safety systems for vehicle brakes, stability and traction control, need both wheels to have the same quantity of wear to work correctly. To avoid fishtailing through a turn, put new tires on the rear. You should replace all four tires at the same time with all-wheel-drive vehicles.
Schedule a tire inspection at Wayne's Automotive Center. Find out how much life remains in your vehicle tires. We are professionals when it comes to choosing new shoes for your vehicle.
Give us a call.