Expert Mechanics at Wayne's Auto Center in Reno Nevada 
Do you have a qualified auto mechanic in Reno Nevada? With today's economy it's important that auto maintenance is maintained by an expert auto repair shop with qualified mechanics that you can trust. Learn about finding an expert mechanic.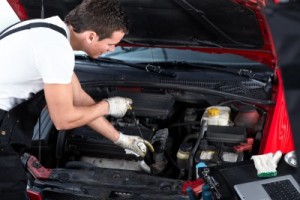 According to an article at mainstreet.com, "Finding a Good Mechanic and Auto Repair Shop"
"Get referrals from people you trust. The best advice you can get on an auto body shop is from friends and family who have had direct experiences with a particular shop. Good feedback from trusted sources "shows that the shop has proven that it can satisfy customers," Edmunds says.
Study the shop before taking your car there. Auto body shops with big, expansive front offices tend to have more employees and overhead. That doesn't mean you should steer clear of such shops, but you should know that they will tend to pad estimates to keep up with operating expenses. Also find out how long the company has been in business.
Visit multiple shops. To get a better grip on what you'll be paying to get your car repaired, don't rush into the decision. Take a day to visit three or four auto body shops in your area and get multiple estimates in writing detailing the expected charges as specifically as possible. If you liked a shop but its estimate was high, show them the lower estimate from another shop and see if they'll match it.
Ask questions. Go into any meeting with an auto shop mechanic or manager with three key questions: Does the shop provide a written warranty? Does it carry fire and theft insurance? Does the shop use new, used or aftermarket parts? This will help explain where the differences in some shops' estimates come from.
Trust your gut. Edmunds recommends really looking around and getting a feel for the place when you walk into a shop. Is it busy? Is it clean? A quiet shop could mean it has a bad reputation for service; a dirty garage could mean a shop that doesn't make quality a big priority.
Check with the Better Business Bureau before you make a final decision. It will likely have a record of any complaints against any shops you are considering.
Get a guarantee. Any auto shop worth its road salt will offer you a warranty for its work. And don't settle for a 90-day warranty – ask for a lifetime warranty on the work and make sure that if the shop said they would use brand new parts for your repairs that the warranty reflects that.
Getting a fair shake from an auto body shop is really up to you. Do the legwork, kick some tires and follow the tips above, because choosing a mechanic is a lot like choosing a doctor: As your car gets older and repair needs increase, it will be important to work with someone you trust and who knows the history of maintenance on the car."
At Wayne's Auto Center in Reno Nevada you'll get friendly, on-time service, and expert mechanics in the auto repair industry. For more information please visit WaynesAutoCenter.com.