Understanding Your Differential Service
When it comes to an understanding a differential service and how it is beneficial, many people end up scratching their heads. Don't worry, the professionals at Wayne's Automotive Center and Xpress Lube want to make sure you understand every part of your vehicle. Here is a fact, every car has a differential. Reno and Sparks drivers have one of these types of drive systems:
1. Front Wheel Drive
2. Rear Wheel Drive
3. Four Wheel Drive
Each of these drive systems has a differential powering it. Some vehicles in Northern Nevada might even have two or three.
What Role Does The Differential Service Provide?
Not surprisingly, a differential's role is to counterbalance for differences; specifically, they're the variations in wheel speed when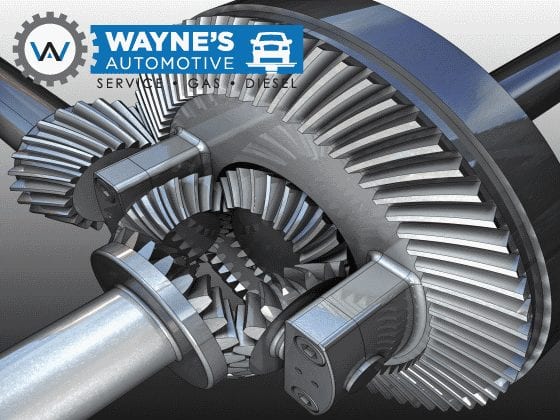 turning. For example, imagine taking a curve near your Sparks, NV, home. Your inner wheel has less distance to travel than the outside wheel as you round the corner. That suggests that your outer wheel has to turn faster to keep step with the inside wheel.
The differential permits the wheels to rotate at different rates while still giving horsepower to your vehicle. Without a differential, Reno and Sparks residents' tires would rub and jump along the pavement during turns like the old cars.
How To Identify Your Differential
Ever noticed the massive bulge in the center of the back axle on trucks? That bulge is the differential. Rear-wheel drive cars and trucks have a differential in the back, and four-wheel drive SUVs and trucks have a comparable differential on the forward axle. A front-wheel-drive car's differential is called a transaxle because it unites the differential and transmission in one unit. An all-wheel-drive vehicle will have a differential or transfer case that adjusts for speed differences between the front and rear drive wheels.
The Professionals At Wayne's Can Help With Your Differential
It can seem a little complex to some Reno and Sparks drivers – but you can see that the engine routes its power through the differentials. Those differentials are strong enough to handle the work, but- we've said it before – they need to be adequately lubricated to stay healthy. So it's a good practice to schedule a differential service in Sparks at Wayne's Automotive Center and Xpress Lube. The used fluid is taken out and replaced with clean fluid. Some advise certain differentials to have special additives installed.  So whether you have a gas or diesel powered vehicle, get your differential serviced at Wayne's Automotive Center in Sparks.
Wayne's Automotive Center and Xpress Lube
55 CONEY ISLAND DR
SPARKS, NV 89431
775-356-6996