Wayne's Automotive Center and Express Lube Knows Custom Wheels
Why is it that everywhere you go in Reno and Sparks you notice custom wheels on cars? Small cars, big rigs, the family mini-van! Custom wheels are found on any car these days. These custom wheels come in different sizes as well, some are large, some small, some are gigantic. If you are considering getting new wheels, then the professionals at Wayne's Automotive Center suggest you start with a budget. The reason for this is because as you begin to piece together different parts to make your customization a reality, you have to be careful to understand the ramifications. Some wheels and tires will require further modifications to your vehicle. Costs could be in the form of a suspension modification which will come at a significant cost.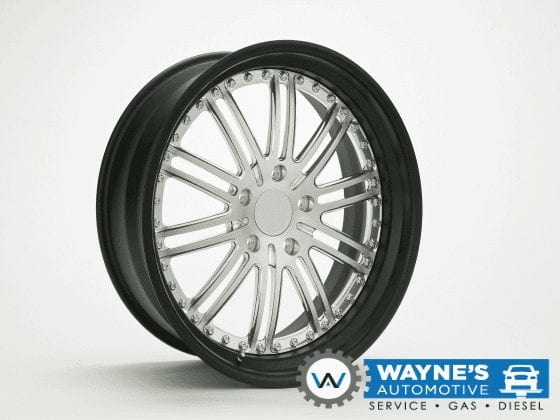 Wheel Offset Can Be A Problem
Wheel offset is something you have to consider when you decide on your custom look. Even with stock tires and rims, you may have a different offset that affects the fit. At Wayne's, we can help you find the right adapters to ensure your dream rims fit. So that leaves picking out the style of wheel you prefer, which is the fun part.
Bigger Custom Wheels
Now let's talk about upsizing your tires. If you want to have bigger wheels you need to ensure that you keep the same tire diameter. Even with the same diameter, you can have offset issues which will require adapters. Without adapters, your tires may rub the inside of the wheel well. Custom wheels are not a problem for the professionals at Wayne's.
Smaller Custom Wheels
On the other end of the spectrum, so owners like to run tires that are smaller than what the manufacturer suggests. With smaller tires, all of the same fitting issues apply. If for some reason smaller tires require a suspension modification, you may improve your ride experience over the stock one.
Custom Wheels Affect Your Ride
Despite your budget limits, you want to car to function and perform all the ways it is supposed to. Modified show cars and trucks don't always ride the same way. They may look good on TV and in the showrooms but can be a challenge in normal driving. Trucks or SUVs with low profile tires can be in danger of breaking rims when doing any heavy duty offroading. With massive impacts, the sidewall is just not thick enough to absorb it.
Wayne's Automotive Center Are Experts In Aftermarket Wheels
Some put the biggest tires and wheels possible in their vehicles but have to severely restrict suspension travel so that the tires aren't rubbing all the time. This type of setup can lead to a harsh ride. Again, talk with your Wayne's Automotive Center tire and wheel professional about all of these things: how you drive in Reno and Sparks, what look you are going for, your budget and what compromises you are willing to make.
Either way, You're going to be rollin' out of Wayne's Automotive Center with one sweet ride.
Wayne's Automotive Center and Xpress Lube
55 CONEY ISLAND DR
SPARKS, NV 89431
775-356-6996