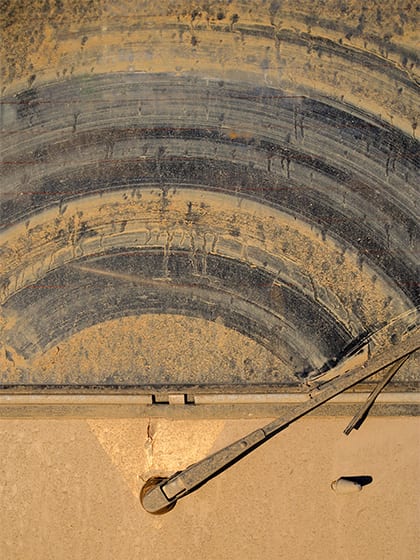 Burning Man was a huge success and enjoyable experience for those who went, but did you know there is an underlying danger posed for your vehicle?
For those unfamiliar with the event, Burning Man is a gathering of people from all over the world who come together to celebrate individuality, art, and community at the Black Rock Desert. The Black Rock Desert is a semi-arid region, of lava beds and alkali flats, situated 3 and half hours north, northeast of Reno and Sparks.
The issue is Alkaline dust. Cars don't like it, and the Black Rock Desert is completely covered in it. Alkaline dust sticks to your car and is sometimes referred to as chalk dust. It's easily stirred up by the slightest breeze and eventually coats everything at Burning Man. Sometimes you'll find cars covered in it drawn on; however, the issue goes beyond the drawings. Alkaline dust is incredibly bad for your vehicle. If uncared for, the dust will make its way into electronics inside your vehicle damaging them. It can also cause major damage should it get under the hood and into the engine. The fine powder even clogs air filters. Even your gas mileage isn't safe from Alkaline Dust. It's just that dense!
Never fear, the friendly pros at Wayne's Automotive Center in Sparks have some cleaning advice to keep your car out of the auto repair shop. Regular washing won't cut it as adding just water turns the dust into a dense, plaster-like substance. In order to successfully remove all the dust from the body of the car when washing it, you must use white vinegar with the soapy water. Why white-wine-vinegar? Remember those baking soda volcanos from your elementary school science fair? Baking soda is also alkaline and adding vinegar to Alkaline dust has similar, if less spectacular, results. Easier to wash foam off your car than paste. So if you are coming back from Burning Man this year, or planning on going from Reno next year, keep in mind the damage that Burning Man can do to your vehicle, and know how to prevent it!