Most Reno and Sparks auto owners want to save on gas and seek our advice on improving their gas economy. At Wayne's Automotive Center, we are frequently asked, however, if it is worth the extra effort. How much money can Northern Nevada drivers save?
In today's Wayne's Automotive Center article, we're focusing on the things you can do to improve your vehicle's economy while driving around Washoe County. We are going to look at what type of savings you can expect using $3.50 a gallon as a starting gasoline cost baseline. Also, to help clarify, we are going to additionally illustrate the savings at $3.00 and $4.00 a gallon.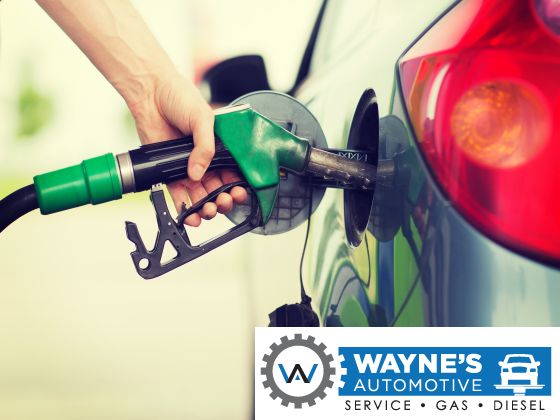 Gas Economy Tip #1
DOLLARS PER GALLON – ($3.00 a gallon / $3.50 a gallon / $4.00 a gallon)
TUNE-UP 4% – (.12 cents/ .14 cents / .16 cents)
The next component to consider is your air filter. Replacing a clogged air filter can help you with additional gas savings. Your engine needs plenty of air to operate efficiently. When your engine is running smoothly, you can save up to 10 percent which equates to 35 cents a gallon.
DOLLARS PER GALLON – ($3.00 a gallon / $3.50 a gallon / $4.00 a gallon)
AIR FILTER 10% – ( .30 cents/ .35 cents/  .40 cents)
Gas Economy Tip #2
Here's a big item; if you replace a faulty oxygen sensor, you can save up to 40 percent in gas mileage. Savings like that equates to a considerable amount in our example, up to $1.40 per gallon. At Wayne's Automotive Center, we can check your oxygen sensor, so you are maximizing your fuel savings while driving around Reno and Sparks.
DOLLARS PER GALLON – ($3.00 a gallon / $3.50 a gallon / $4.00 a gallon)
FAULTY O2 SENSOR 40% – ($1.20/ $1.40/ $1.60)
Gas Economy Tip #3
The chances are that if your oxygen sensor is kaput your Check Engine light will come on. The Check Engine light is a handy indicator of many types of gas robbing issues. If you see it illuminated, it's in your best interest to contact Wayne's Automotive Center for assistance. While we can fix many causes because they are only minor issues, some could be a sign of pending catastrophic damage. Either way, to maximize gas savings you don't want to see that Check Engine light.
Here's an easy one for drivers. Keep your tires inflated to the manufacturer's recommended pressure. This advice alone could save you up to three percent or 11 cents a gallon. Don't underestimate a little drop in tire pressure, as it can bring your gas economy crashing down. Consistently checking tire pressures will reap benefits.
DOLLARS PER GALLON – ($3.00 a gallon / $3.50 a gallon / $4.00 a gallon)
TIRE INFLATION 3% – (.09 cents/ .11 cents/ .12 cents)
Gas Economy Tip #4
Did you know that a vehicle has a recommended weight of motor oil? Oil weight has to do with how thick the substance is and how it performs under certain environmental conditions. Just like your body functions the best with a healthy diet, your engine needs the right type of oil to run it's best. If you use a heavier crude than recommended, you could lose up to two percent in gas savings. In our example, this equates to up to 7 cents a gallon.
Gas Economy Tip #5
Something that many people don't think of, something that can save on gas, is lightening the load in your trunk. Removing the extra junk (100 lbs) in the trunk of a vehicle can produce up to 2% savings at the gas pump. Quit treating your car as a storage unit and save money on gas!
So when you tell someone you were going somewhere anyway, and they're welcome to come along, that's okay. But if someone would like to go with you, and reasons it's no harm to you since you were going anyway—well, now you can tell that person, "Sorry, but you're an extra fifteen cents a gallon! It's going to cost you!"
All joking aside, let's all do ourselves a favor and fatten up our wallets by practicing good car care and better driving habits in NV.