Are Auto Repairs Leaving Your Wallet a Little Empty?
Are you trying to cut cost on auto repairs? Did you know one way to cut cost on auto repairs is to stick to preventative auto maintenance schedule?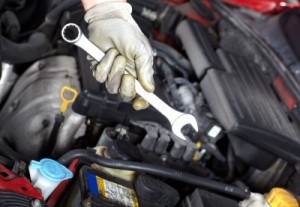 According to an article at carinsurance.com, "The Importance of Preventative Auto Maintenance"
"There are ways to keep your repair costs down. One of the easiest and best ways is preventative maintenance. Regularly schedule trips to your mechanic or service station can save you lots of money from future problems. Most cars have manufacturer's maintenance schedules or you can ask your mechanic if they have their own. Your vehicle manual, which is likely in the glove box next to your registration and insurance card, will tell you the maintenance schedule.
Being aware of your car is important as well. Keep your eyes ears and nose open. You can visually check your car yourself. Checking all your fluids and making sure they are topped off is an easy thing to do. You can inspect your tires for wear to see if they require rotation. Do you see oil, water, or break fluid under the car? Remember that an air conditioner will drip water from condensation, do not mistake it for engine damage.
Be aware of how the car sounds. Does it sound loud while driving? Do you hear squeaks while breaking? Do you hear squealing when you turn? Do you smell fumes, smoke, or burning wires? Being diligent can help keep repair costs down.
When you do have to repair or service, make sure you ask for a written estimate ahead of time. Make sure that the mechanic will ask your approval before any repairs is made (which is required in most states). Therefore, what they suggest and what may prevent future problems. Finding a good mechanic should be done before you need repairs done. However, if you are having your car maintained regularly this should not be a problem. Make sure you are using a competent and professional mechanic for your repair work and servicing. Cheap price does not mean good work. As they say, you get what you pay for. Check to see if the mechanic uses new or used parts in the repairs. Make sure the shop is clean and orderly as well." To read the entire article click here.
Car overdue for auto maintenance service? For professional auto repair service in Reno, contact Wayne's Automotive Center at 775-525-9366 or visit waynesautocenter.com.